Conversion, integration and ecosystems drive SaaS growth
Applications serve as the vessel for cloud's business value
Value, in the form of agility, innovation and efficiency, is now the driving force behind customers' cloud investments. Applications, in the form of SaaS, are the purest vessel for customers to implement and achieve the value they so desperately want in order to improve their businesses. It is for that reason that TBR published our first Cloud and Software Applications Benchmark, tracking the nuances of the applications space from a workload and subworkload perspective.
Customers' growing reliance on SaaS solutions is shown in the market growth of the 10 vendors covered in the inaugural report — their aggregate revenue increased by 26.4% year-to-year in 3Q21, a rate that has accelerated over the past year. Business Applications workloads, which include ERP solutions, was the fastest-growing segment, with aggregate revenue for the 10 vendors covered increasing by 28.5% year-to-year during 3Q21. The drivers of this expansion are threefold: conversion of existing customers to cloud; the integration of solutions through hybrid deployments; and revenue driven by the ecosystems that are critical to the innovation and go-to-market strategy for SaaS solutions.
Providers from all backgrounds now look to existing customers as their first growth option
For both traditional software providers and companies that were born on the cloud, customers with existing traditional software installations have become one of the main drivers of SaaS growth. Traditional software providers did not always see the market this way. In fact, SaaS was a threat to their existing license and maintenance businesses for quite some time. After years of customers voting with their dollars and selecting SaaS-delivered solutions over the traditional license and maintenance delivery model, nearly all applications vendors currently see their existing bases as the first opportunity for growth.
In some ways, this transition has played out on a workload-by-workload basis. Sales and marketing applications, led by CRM, are on the periphery of most enterprise applications suites and were the earliest to see a shift to SaaS over traditional software purchasing. Salesforce (NYSE: CRM) led this trend, converting many existing customers from traditional leading providers like SAP (NYSE: SAP) and Oracle (NYSE: ORCL). The dynamics in CRM served as a warning shot for many traditional providers. Even the most reluctant SaaS providers, like Oracle, are now focused on offering cloud solutions to their existing customers before their competitors can.
The shift in strategy is well timed for traditional providers, as cloud demand in the Business Applications segment is beginning to accelerate. As shown in Figure 1, Business Applications has the lowest cloud revenue mix for the vendors included in TBR's Cloud and Software Applications Benchmark, making it the largest opportunity for traditional customer conversion.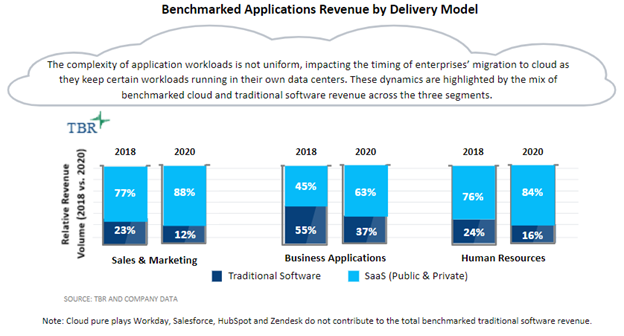 https://tbri.com/wp-content/uploads/2022/02/app-1013616_640.jpg
440
640
admin
https://tbri.com/wp-content/uploads/2021/09/TBR-Insight-Center-Logo.png
admin
2022-02-07 15:11:38
2022-02-07 15:11:38
Conversion, integration and ecosystems drive SaaS growth