Demand for 5G infrastructure is becoming more robust, though commercial deployments will be delayed by supply chain headwinds in the short term
Supply-demand imbalance delays pace of 5G market development
The pandemic has prompted enterprises and governments to pull forward and broaden the scope of their digital transformations, primarily for business resiliency and cost-reduction purposes but also for tapping into new market opportunities. There is significant interest among governments and enterprises across verticals in leveraging 5G and other new technologies such as AI and edge computing, to adapt economies and societies to the new normal. Though demand for 5G infrastructure is becoming more fertile and robust, deployments are being challenged by supply chain limitations.
Though most network vendors successfully navigated supply chain headwinds in 2021 and were nearly able to fully meet demand, 2022 will be more challenging as inventories are now thinner and the shortages of chips, components and labor are impacting the telecom industry more directly. Technological complexity, standards delays and geopolitical encumbrances also threaten to slow the pace of 5G ecosystem development despite broad interest in the technology. There are two primary impacts from the supply chain breakdown: The timing of revenue recognition and cash flow for vendors is altered, and the ability of communication service providers (CSPs) to meet their build-out timelines and participate in market development is hindered.
TBR sees no easy fix to resolve the supply chain issues; rather, it will be a series of small adjustments over time that will enable the supply side to fully recover and meet demand (e.g., it takes a few years to build new chip factories). This is compounded by a demand environment that is above the historical trendline, which is driven by unprecedented government market support and greater pressure on CSPs to invest in their networks to remain competitive.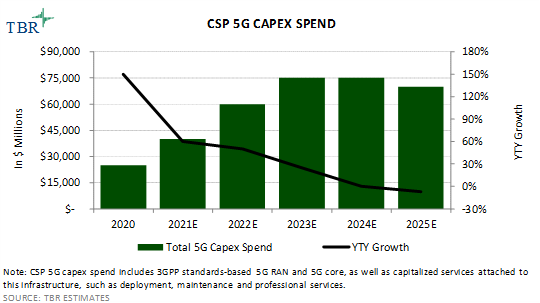 Related content:
Webinar: 2022 Predictions: Telecom
Special report: Top 3 Predictions for Telecom in 2022
https://tbri.com/wp-content/uploads/2019/05/5G-Summit-EP.jpg
853
1280
admin
https://tbri.com/wp-content/uploads/2021/09/TBR-Insight-Center-Logo.png
admin
2022-02-08 10:44:32
2022-02-08 10:44:32
Demand for 5G infrastructure is becoming more robust, though commercial deployments will be delayed by supply chain headwinds in the short term