Vendors pursue tactical run-the-business engagements to help clients react to COVID-19 and maintain operations
Management consulting market summary
Outlook
The COVID-19 pandemic will continue to pressure discretionary spending and challenge vendors' interactions with clients due to social distancing and travel restrictions. The vendors that will succeed are the ones that immediately adjusted their portfolios and service delivery models to accommodate clients' pandemic-related run-the-business challenges and are now looking ahead to provide services to support clients in the post-pandemic world. TBR expects vendors to master the hybrid engagement model, navigate more smartly through the technology alliance ecosystem, deliver digital transformations and expand activities around decarbonization to recover ground lost in 2020.
Changes
Hybrid sales and service delivery, in which consultancies interact with clients both virtually and face-to-face, existed before the COVID-19 pandemic spread across the world in 2020; however, the dramatic difference from pre-pandemic days is the universal acceptance that hybrid engagements are a necessary and valuable way to conduct business. Vendors are now more adept at delivering services in person and remotely and have made collaborative technologies a natural extension of the job. Clients now receive services and adapt to different ways of working, recognizing that value in a services relationship can be sustained without face-to-face encounters. In 2021 IT services vendors and management consultancies that perfect the hybrid engagement model will outperform peers and accelerate consolidation across the IT ecosystem.
Market overview
TBR expects benchmarked vendors in the management consulting segment to increase revenue 0.9% year-to-year in 2020, a growth trend that will continue to surpass that of benchmarked IT services vendors in TBR's IT Services Vendor Benchmark, which we expect to decrease 1.7% year-to-year in 2020. The Big Four vendor group will remain the largest revenue contributor at 55.2% of benchmarked revenue in 2020; however, strategy-led vendors will increase their market share by 50 basis points year-to-year to 28.6%. Solutions-led companies, the Big Four and strategy-led firms are all expanding their technology capabilities, intellectual property assets and managed services capabilities to address clients' run-the-business needs with holistic capabilities.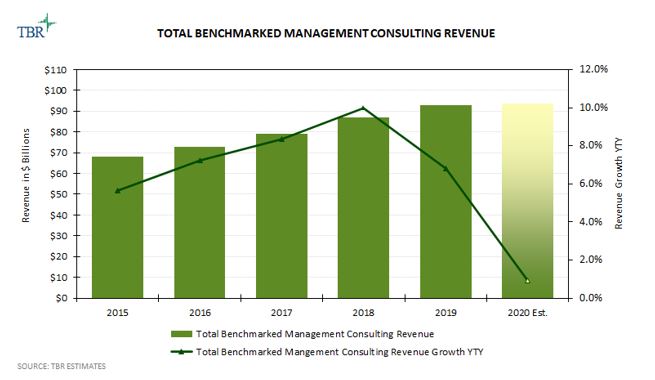 The Management Consulting Benchmark provides key service line, regional, vertical and operational data and analysis for 13 leading management consulting firms. The research program also includes a deep dive into 11 vendors' management consulting business strategies as well as SWOT analysis.
https://tbri.com/wp-content/uploads/2021/01/Total-Benchmarked-Management-Consulting-Revenue-2015-2020E.jpg
380
655
Elitsa Bakalova, Senior Analyst
https://tbri.com/wp-content/uploads/2021/09/TBR-Insight-Center-Logo.png
Elitsa Bakalova, Senior Analyst
2021-01-05 13:41:22
2021-01-05 13:41:22
Vendors pursue tactical run-the-business engagements to help clients react to COVID-19 and maintain operations