Opportunities for IT services abounding in a resurgent APAC market
In the most recent edition of the quarterly IT Services Vendor Benchmark, which published Oct. 7, TBR analysts took a deep dive into services vendors' performance in APAC over the last few quarters, noting trends and anticipating how the market would react to easing pandemic restrictions and new investments in people and capabilities. The following comes from that deep dive; the full content is available from TBR.
IT services vendors see accelerating revenues as pandemic pressures slow and local investments grow
While pandemic-related pressures slowed APAC revenue growth for the vendors in TBR's IT Services Vendor Benchmark during 2Q20, 3Q20, 4Q20 and 1Q21, regional revenue growth accelerated during 2Q21, supported by the gradual lifting of restrictions due to vaccine rollouts across the region. TBR believes the recent ramp-up of hiring of local market resources, leadership appointments, and acquisitions and partnerships will improve vendors' ability to serve clients that are based in APAC and global clients that have operations in the region, and diversify global revenues during 2022.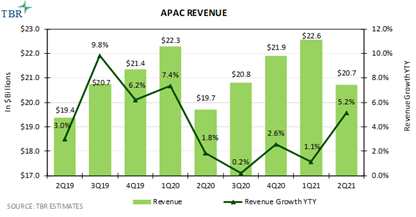 APAC revenue leaders aim to better compete globally through investments outside core Japan market
The two benchmarked leaders in revenue size in APAC — Fujitsu and NTT DATA — remain deeply rooted in the APAC market, even as these vendors continue to invest in new resources and capabilities outside their core market of Japan to better attract and support clients abroad. Attempting to penetrate new geographies can be a double-edged sword for the two vendors, as it can help Fujitsu and NTT DATA compete abroad against more established peers in markets such as the U.S. and Europe, but also opens the door for peers to capture market share in Japan. The two companies have thus far taken somewhat divergent paths, with NTT DATA centering its efforts on augmenting U.S. operations through acquisitions, which is helping it gain traction in the market, while Fujitsu focuses on more internal transformations to grow its services resources and portfolio in new markets to earn client mindshare.
NTT DATA closed the acquisitions of Acorio in 4Q20, Hashmap in 1Q21 and Nexient in 2Q21. The three U.S.-headquartered companies will add capabilities in digital, cloud and consulting, respectively, and, in the case of Acorio, horizontal technical capabilities around ServiceNow. We fully anticipate North America-focused NTT DATA Services will maintain an active acquisition pace over the next year, as synergies begin to increase and compound, boosting top-line revenue growth into 2022.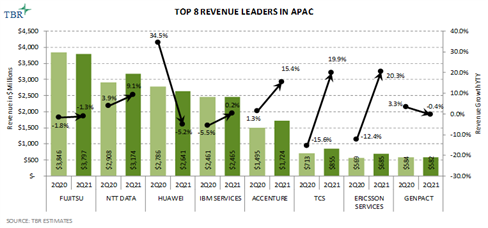 Pursuing APAC expansion through innovation-led engagements around customer experiences
Quickly growing revenue leaders are eyeing opportunities to further penetrate the APAC market by leveraging digital design and creative capabilities to drive high-value opportunities across regions such as Japan and India. Consumer and enterprise preferences toward digital experiences and cloud-based "as a Service" solutions increasingly influences clients' digital transformation agendas, providing growth opportunities for well-positioned vendors.
Accenture, No. 5 in revenue size in 2Q21, announced the opening of an office in Japan to host Accenture Interactive's Droga5 team, along with plans to open similar facilities in the next 12 months in Brazil and China. Adding Droga5 capabilities in the country will augment Accenture's innovation-led discussions to expand the company's addressable market in areas such as marketing operations, including design, content development and content moderation, among others.
No. 6 in revenue size, Tata Consultancy Services (TCS) provided consulting and systems integration services for an India-based over-the-top streaming platform, SonyLIV, to help personalize subscriber experiences leveraging AI and machine learning. As a part of the engagement, TCS will also launch an Experience Design Center focused on rapid prototyping and digital innovation. Engagements such as this can provide a pathway into high-value services with TCS Interactive around digital design, branding and marketing. 
India-based talent serve as launching pad for services in APAC, diversifying revenue streams
The story in India is slightly different. India has traditionally offered an abundance of cost-effective global service delivery, but the local market itself only accounts for a small fraction of most vendors' total revenues. Some companies are now viewing this juxtaposition as an opportunity, and despite a severe second wave of COVID-19 hitting between April and June 2021, vendors increasingly competed for new business with local clients in India in 2Q21. While India is unlikely to become the next frontier for growth in the near term, demand for digital transformation in the region can be an avenue for global revenue diversification, provided vendors can attract and retain skilled talent amid rising demand.
Earlier this year, Infosys signed a contract with the Federal Bank of India to implement the Oracle Customer Experience Cloud solution, helping the bank improve customer experience. Infosys also developed a new SaaS offering designed specifically for Urban Cooperative Banks in India. Infosys is facing fierce competition in recruiting and sales opportunities from both India-native peers and multinational corporations such as Accenture and Capgemini. For example, during the quarter Accenture signed deals with India-headquartered Mankind Pharma and Bharat Petroleum.
Capgemini's three awards in the inaugural edition of the NASSCOM Engineering and Innovation Excellence Awards 2021 in India indicate the company is well positioned in the segment. Infosys has an opportunity to double down on its partnerships with Amazon Web Services, Google and Microsoft similar to peers like Wipro and Cognizant, which have formed joint business units and have been investing heavily in the country to provide the infrastructure backbone needed for India to pivot from being a frontier to emerging as a more developed market. Managing messaging around these relationships and Infosys' broad technology agnosticism might prove most challenging for the company.
The IT Services Vendor Benchmark details and compares the initiatives of and track the revenue and performance of the largest global IT services vendors. The report includes information on market leaders, vendor positioning, the IT services market outlook, key deals, acquisitions, alliances, new services and solutions, and personnel developments.
https://tbri.com/wp-content/uploads/2021/10/globe-1339833_960_720.png
720
720
Elitsa Bakalova, Senior Analyst
https://tbri.com/wp-content/uploads/2021/09/TBR-Insight-Center-Logo.png
Elitsa Bakalova, Senior Analyst
2021-10-08 10:42:48
2021-10-08 10:42:48
Opportunities for IT services abounding in a resurgent APAC market