CSP demand for 5G infrastructure is expected to remain robust for at least the next few years
Key Insights
Traditional RAN will remain the predominant architecture through 2025. Open vRAN will take time to mature and go mainstream.
Mobile broadband (MBB) and fixed wireless access (FWA) will remain primary use cases for 5G; government and enterprise pursuit of digital transformation wil drive other use cases.
APAC will lead the world in 5G investment through the forecast period. The U.S. and parts of Europe will be fast following, while most of rest of world will lag.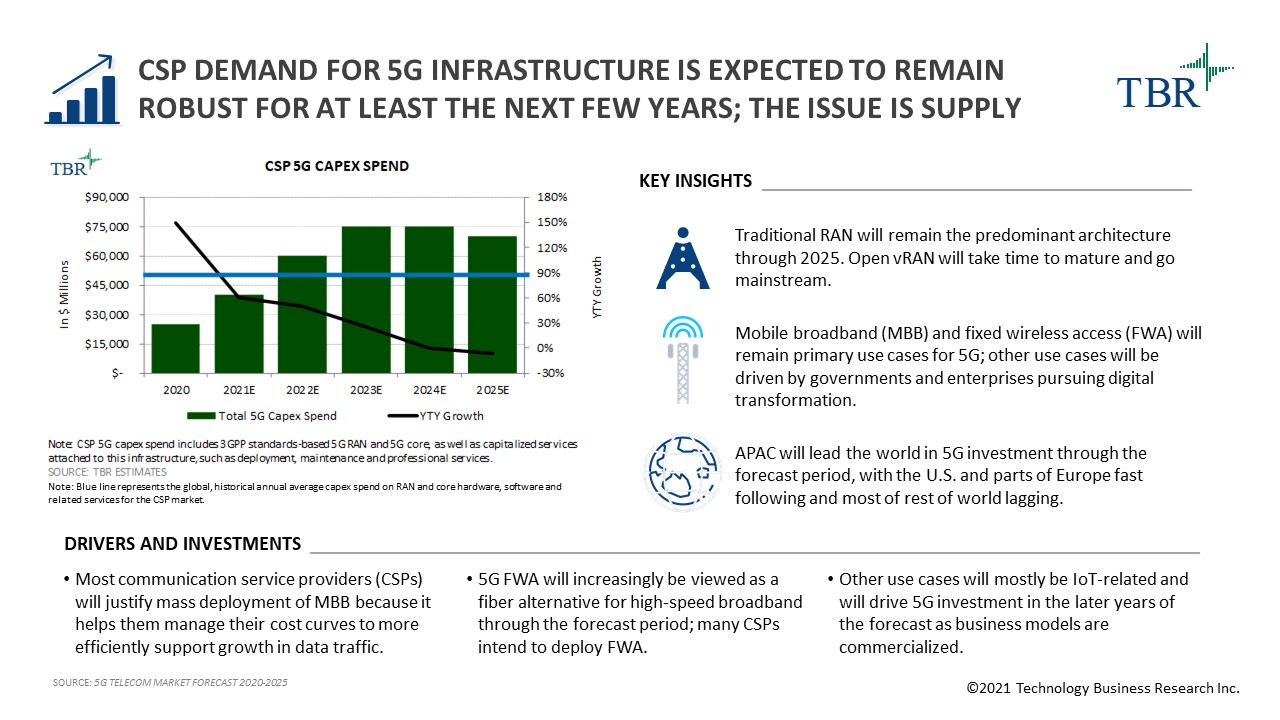 TBR's 5G Telecom Market Forecast details 5G trends among the most influential market players, including both suppliers and operators. This research includes current-year market sizing and a five-year forecast by multiple 5G market segments and by geographies well as examines growth drivers, top trends and leading market players. TBR's 5G Telecom Market Landscape includes key findings, market size, customer adoption, operator positioning and strategies, geographic adoption, vendor positioning and strategies, and acquisition and alliance strategies and opportunities.
https://tbri.com/wp-content/uploads/2021/10/TBR_INFOGRAPHIC_5GTelecomMF_2020-2025_Telecom-1.jpg
720
1280
Steve Vachon, Senior Analyst
https://tbri.com/wp-content/uploads/2021/09/TBR-Insight-Center-Logo.png
Steve Vachon, Senior Analyst
2021-10-07 09:33:00
2022-10-05 16:19:28
CSP demand for 5G infrastructure is expected to remain robust for at least the next few years