Deconstructing COVID-19's impact on IT services and manufacturing
For IT services vendors working with manufacturers, resiliency, business continuity, security and digitalization spark new revenue growth
During 2020 the COVID-19 pandemic negatively affected IT services vendors' revenue growth in industrial solutions, manufacturing and automotive due to country lockdowns across the globe that caused major supply chain and production disruptions. Enterprises in the sector weathered the worst of the pandemic at the beginning of 2020 and made the necessary run-the-business changes to improve operational efficiency and reduce costs. As such, IT services vendors evolved their relationships and are now working with clients to ensure their IT and workforces are modernized, secure and digitally enabled and their operations are resilient.
Uncertainty around the pandemic can continue to create disruptions like the supply chain challenges faced at the onset of the crisis. IT services vendors are capitalizing on their advise-build-run expertise to support clients during challenging times and capture growth opportunities, indicated by the revenue growth acceleration that began in 4Q20. Vendors are investing in digital twins to enhance their supply chain, digital sales and marketing as well as in AI and machine learning capabilities to offset pressure.
According to TBR's special report Digital twins, innovation and Godzilla: 3 IT services trends for the rest of 2021, published in April, digital twins are becoming more synonymous within the supply chain of manufacturing firms as they present a hedge against unique macroeconomic factors, such as the pandemic. Larger technology vendors are finding partnerships, bringing cloud-enabled analytics to shipping, and opening opportunities for IT services vendors and consultancies. These openings allow for interoperability across supply chains, orchestration of technologies and data, and change management.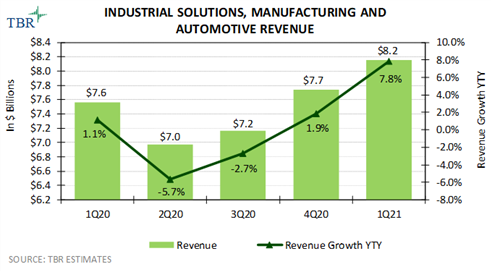 Leading vendors offset pandemic-related revenue growth pressures by connecting smart devices and implementing partner solutions
With COVID-19 disrupting global supply chains and forcing participants to seek alternative channels to either reduce transaction costs enabled by blockchain or transform IT infrastructure by migrating applications to cloud to offset technical debt and diminish financials pressure, some vendors have had the opportunity to gain a prime position. Six of the top 10 revenue leaders in industrial solutions, manufacturing and automotive accelerated revenue growth year-to-year in 1Q21 compared to 1Q20.
Accenture is gaining traction with manufacturing clients by helping them improve operational technology security and discrete manufacturing processes to optimize efficiencies. Accenture is also investing in developing, integrating and connecting smart devices that help Accenture drive Industry X-centric sales and extensions into C&SI services around analytics and AI. SAP implementation opportunities enabling agile IT infrastructure through SAP Business Suite 4 HANA and improving customer experience through SAP Fiori, illustrated by the deal expansions with Siemens Gamesa Renewable Energy and Johnson Controls, helped Infosys grow vertical sales 7.4% on an annual basis in 1Q21.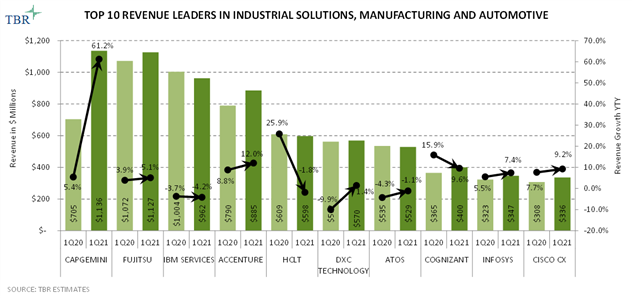 Acquisitions contribute to IT services vendors' expansion in engineering and R&D services
The acquisition of Altran in April 2020 expanded Capgemini's capabilities and revenues in the sector. On Jan. 1 the company established Capgemini Engineering, a new global business line and brand. Capgemini Engineering includes 52,000 engineers and scientists and provides R&D and engineering capabilities in three domains: product and systems engineering, digital and software engineering, and industrial operations.
In March Cognizant announced plans to acquire ESG Mobility, a Germany-based provider of engineering R&D servicers for autonomous and electric vehicles. The acquisition will provide Cognizant with advanced technologies to complement its existing automotive capabilities, giving the company an opportunity to upsell existing clients that are targeting growth in autonomous or connected vehicles.
Recent acquisitions, such as Eximius Design and International TechneGroup Incorporated, bolstered Wipro's capabilities around digital engineering services and product lifecycle management, which will strengthen the company's ability to provide client-specific outcomes in areas like industrial manufacturing, a vertical that cloud platforms are targeting for growth given the IaaS opportunity related to IoT data.
DXC's acquisition of Luxoft in 2019 continues to enable DXC to move up the value chain as it expanded the company's presence in Europe, deepened its expertise within the manufacturing industry and added high-value digital engineering capabilities. During 1Q21 DXC Luxoft launched a joint venture, ALLUTO, with LG around vehicle customer experience and will focus on the commercialization of digital automotive technologies, such as in-vehicle entertainment and infotainment as well as ride-hailing systems.
The 1Q21 IT Services Vendor Benchmark, which published on June 30, extends the analysis above to include how pairing technology and engineering skills and low-cost presence positions India-centric vendors for growth in manufacturing in the coming quarters and further adoption of technology partners' solutions to advance Industrial IoT initiatives.
Note: This blog has been adapted from TBR's 1Q21 IT Services Vendor Benchmark, which provides a quarterly assessment of leading IT services vendors' performances and an assessment of their strategies. A newly launched Industry Views section within the benchmark provides analysis that focuses on one industry sector. In 1Q21 TBR began with a deep dive on the industrial solutions, manufacturing and automotive sector. Every quarter we will alternate industry deep dives with geo deep dives.
https://tbri.com/wp-content/uploads/2021/08/car-doors-406883_640.jpg
426
640
Patrick Heffernan, Practice Manager and Principal Analyst
https://tbri.com/wp-content/uploads/2021/09/TBR-Insight-Center-Logo.png
Patrick Heffernan, Practice Manager and Principal Analyst
2021-08-11 09:24:21
2021-08-11 09:24:21
Deconstructing COVID-19's impact on IT services and manufacturing