One of tech's largest acquisitions will place VMware as strategic and financial centerpiece of Broadcom Software
Broadcom will position VMware at forefront of its software strategy
On May 26, Broadcom (Nasdaq: AVGO) agreed to purchase VMware (NYSE: VMW) at an enterprise value of $69 billion, making it one of the largest tech acquisitions in history. While Broadcom is no stranger to software acquisitions, this transaction will be its most transformative as VMware becomes both the brand and growth driver behind Broadcom Software. If the transaction closes, the new Broadcom will find itself evenly balanced between its semiconductor and infrastructure software businesses. After market close on the day of the announcement, investors on each side of the transaction viewed the proposed deal favorably, signaling shareholders' confidence in management's ability to use past experiences to generate free cash flow through the integration of the two companies, bolstered by VMware's cost structure and pervasive role in enterprise IT.

Should the deal close, VMware will be led by Broadcom Software Group's current president, Tom Krause, who has a financial background and will report to Broadcom CEO Hock Tan. As with past acquisitions, Broadcom's primary goal will be to improve profitability through cost synergies, mostly related to redundant headcount. While margins will certainly benefit, VMware's innovative agenda, spearheaded by Pat Gelsinger and since adopted by current CEO Raghu Raghuram, hangs in the balance, with the outcome dependent upon Broadcom's desire to drive synergies with VMware in both R&D and go to market. If Broadcom's acquisitions of CA Technologies and Symantec are any indication, VMware's future in the cloud and at the edge may be muted. But it is still early days, and commentary from Broadcom management suggests a different course of action relative to past acquisitions with a strong intent to invest in VMware's core software-defined data center (SDDC) stack.


A deal could bring VMware back to its data center roots
Since the 2016 launch of VMware Cloud Foundation (VCF), VMware has insisted on making its trusted virtualization software relevant beyond data center walls by delivering native, turnkey solutions with all major cloud service providers (CSPs). The rise of cloud-native development through containers and Kubernetes has presented VMware customers with an alternate route to the public cloud, but the 2019 acquisition of Pivotal and resulting Tanzu portfolio — while still built and delivered via ESXi — allowed VMware to position as a complement to containers, rather than a competitive threat.

Often still defined as the company that pioneered enterprise virtualization, VMware has proven its ability to adapt over the past two decades alongside market trends, including cloud computing and containerization, both of which have accelerated VMware's transition to a Subscription & SaaS company, with related revenue comprising 29% of total business in 1Q22. Broadcom plans to upsell Subscription & SaaS alternatives to legacy customers, including those demanding "as a Service" software inside the data center.

However, given the growth in Broadcom's software business stems from mainframe customers, we cannot help but wonder if VMware's push to the cloud will be stalled should the deal close. From a cost perspective, customers may be less incentivized to move their VMware workloads to the cloud, and instead could containerize applications to avoid incurring the cost of VMware or could simply keep their VMware applications on premises, which would erode some cross-selling opportunities for Broadcom. Further, given Broadcom's focus on revenue-rich products, we can expect detracted focus from the Tanzu initiative, which could bring VMware further back to its data center roots and, in a worst-case scenario, put it back at war with the hyperscalers, as was similarly seen in the early days of EMC.


With VMware's success hinging on partners, Broadcom cannot afford to decelerate partner investment
Historically, Broadcom's corporate sales model has been largely direct, but considering the scale of VMware's partner network, the pivot toward indirect sales motions is inevitable, especially as Broadcom looks to build out a $20 billion software enterprise. Management indicated it will sell directly into 1,500 core accounts while likely providing hands-on professional and support services to these customers, which Broadcom chalks up to a simplification of its overall business model. This suggests, however, that there will be over 300,000 vSphere adopters still left in the hands of partners — and given Broadcom's lack of comparative experience navigating channel relationships, the company will be most successful if it lets VMware go to market independently while preserving its relationships with strategic resellers, especially Dell Technologies, which is responsible for roughly one-third of VMware's revenue.

Further, despite a thin R&D budget, Broadcom will still deliver new product integrations with VMware, which could present opportunities for distributors, VARs and potentially ISVs looking to integrate and package their solutions with VMware and Broadcom. However, management has been unclear regarding acquisition synergies, suggesting opportunities could be minimal, and except for some OEMs potentially hoping Broadcom will help level the playing field, partners are likely concerned.

This is particularly true as prior to the announcement VMware was in the middle of overhauling its partner program, announcing promises to improve coselling motions between direct sales teams and VARs, in addition to investments in digital and automation technologies designed to lower implementation costs and improve partner profitability. With Broadcom's cost structure in place, investments in VMware resources and training programs for partners could decrease, which, when combined with the already higher prices we can expect for VMware products, will present a challenge for partners across the spectrum.


For Broadcom, it is all about profitability
The proposed acquisition can be viewed as another one of Broadcom's attempts to diversify its hardware portfolio through high-margin software, and with VMware, Broadcom will use redundant costs and license prices as levers for margin expansion. Profit growth will have to come in the form of cost consolidation as VMware's top line will decelerate, especially as profitable software maintenance revenue streams erode as customers transition from licenses to subscriptions. For context, in 2021 VMware's SG&A costs accounted for 40% of revenue, a high percentage relative to peers, leaving room for Broadcom to offload redundant resources, particularly in back-office positions.

Meanwhile, as Broadcom prioritizes margins at the expense of top-line growth, at least in the near term, we can expect the sales and marketing line to be impacted, with Broadcom making use of its existing sales teams and channel distribution partners to sell into existing strategic accounts. R&D is perhaps the biggest question mark weighing on the pro forma company, which we expect will require a minimum 15% reduction in spend to meet EBITDA targets, when applying the S&M and G&A estimates shown in Figure 1. The R&D budget will undoubtedly be cut, but the degree depends on the level of "central engineering" synergies Broadcom is willing to form with VMware to deliver new products, with at least basic CI/CD (continuous integration/continuous delivery) procedures in place.

Leveraging VMware's relationships with the cloud providers, specifically Amazon Web Services (AWS) (Nasdaq: AMZN), it is possible new product synergies could be formed without driving significant R&D investment. However, it will still require a level of commitment from Broadcom to invest in the VMware portfolio beyond SDDC, which does not appear on the company's radar. This structure could also impact existing offerings like SASE and Project Monterey, which happens to align with Broadcom's gradual shift away from x86 architectures. This is especially true as Broadcom figures out where there is overlap between its existing software portfolio, which already has plays in security, infrastructure management and FC SAN (fiber channel storage area network) and VMware.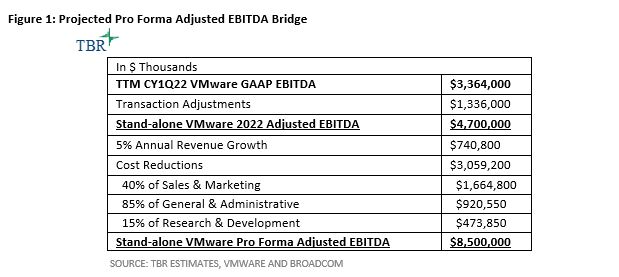 At the end of the day, cost actions will run through the income statement over the next three years in a way that gets Broadcom to $8.5 billion in pro forma adjusted EBITDA. Currently estimated at $4.7 billion for FY22, Broadcom would need to grow adjusted EBITDA by a 22% CAGR to achieve this goal, resulting in a drastic operational change for VMware and potentially a loss of momentum outside vSphere, vSAN, NSX and the vRealize suite, which may not have an impact on near-term results but certainly risks VMware's long-term attractiveness.


Rival bid seems unlikely despite go-shop provision
While the premium pledged by Broadcom in its bid for VMware is likely to ward off most, if not all, potential rival bids, the current agreement contains a 40-day go-shop provision that allows VMware to explore other buyers. Ultimately, any potential bidder would need to have a significant amount of capital ready to be utilized and be willing to push VMware's valuation further. Given their respective sizes, a hyperscaler is the most likely candidate, with AWS top of mind considering its strategic reseller and product alliance with VMware.

However, TBR believes this is still unlikely, and if any of the cloud providers were to buy VMware, it would be widely perceived as an attempt to buy IaaS revenue. Further, we believe that the cloud providers, while some are more prone to locking in customers than others, generally respect VMware's neutral position in the market and are cognizant of the fact that owning VMware could create a host of challenges for customers. It is also plausible some of the hardware vendors would like to get in on the deal, but OEMs could be skeptical following last year's spinoff by Dell Technologies.


TBR takeaway
Considering Broadcom's aggressive profit targets and previous history running software businesses, customers, partners and employees appear to share mutual concern regarding what will become of Broadcom Software should the deal close. With cost reductions bound to occur across business functions, including R&D, lack of investment raises questions as to how VMware will remain competitive in markets beyond traditional virtualization.

However, Broadcom management has also indicated that VMware will not operate like Symantec and CA Technologies, given its unique market position — and if VMware can materialize R&D to drive new product synergies, the company could at a minimum maintain its trajectory of midsingle-digit growth. VMware's well-established relationships with channel partners will also help Broadcom establish a large software empire, but this would be contingent on the company's willingness to invest in less profitable, yet emerging business units, with the final decision coming down to whether management believes the initiative will be accretive to free cash flow.



https://tbri.com/wp-content/uploads/2022/06/robert-stump-sAg60JDU1IU-unsplash-1.jpg
471
640
Catie Merrill, Senior Analyst
https://tbri.com/wp-content/uploads/2021/09/TBR-Insight-Center-Logo.png
Catie Merrill, Senior Analyst
2022-06-08 15:44:32
2023-01-31 19:15:52
One of tech's largest acquisitions will place VMware as strategic and financial centerpiece of Broadcom Software