COVID-19 will fade, but cloud reliance will remain
Cloud has been the cure for many pandemic-related business ailments
The COVID-19 pandemic and its wide-ranging effects forced businesses to adjust in 2020 and now into 2021, but these changes will persist much longer than the pandemic. Most businesses made a wide range of changes to their IT strategies over the past year, but there are a number of commonalities. The first commonality is that technology is at the heart of how organizations have adjusted to COVID-19's effects, to service their own employees and the changing needs of their customers. Cloud-delivered technology, in particular, has been core to providing the speed and scalability needed to support these adjustments in the most agile manner possible. The other commonality in COVID-19 responses is that organizations found a way to support increased technology spending, even in a time of much economic uncertainty. Cloud investments were prioritized during the course of 2020, which is reflected in the overall stability and continued growth of the market throughout the year.
Figure 1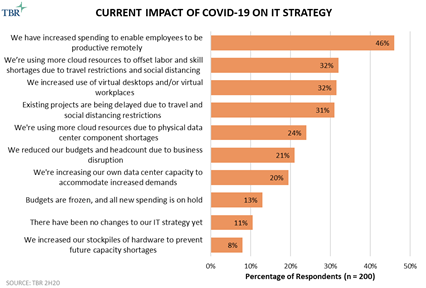 AWS, Microsoft Azure and Google Cloud Platform are even more critical to the IT industry
While the market continued to grow and leading firms maintained their momentum, they were not unscathed by the effects of COVID-19. Vendors experienced a dip in revenue growth rates during 2Q20, at the height of uncertainty and pessimism. The dip was driven by businesses pulling back spending in anticipation of a pronounced economic slowdown. Even though COVID-19 infection rates grew worse through the end of 2020, economic expectations recovered and the uncertainty around how COVID-19 would impact business results diminished, putting cloud revenue growth from the leading vendors back on previous trajectories. Though the business strategy and dynamics were much changed, the continued growth of the leading firms was back on track.
In many ways, COVID-19 accelerated but did not actually alter the course of cloud technology's impact on the IT market. As a delivery method, cloud was already eroding traditional IT and far outpacing the overall growth in spending. Most customers had some level of cloud investment prior to 2020, with many using cloud solutions for mission-critical elements of their enterprises. After a year of dealing with pandemic-driven disruption, cloud utilization has grown significantly. Cloud adoption happened faster than most organizations planned moving into 2020, as business changes forced customers to overcome cultural, budgetary and technological barriers in making adjustments to their operations. The good news for cloud vendors is that this change in behavior should last well beyond the direct impacts of COVID-19. The challenge is how to meet this enhanced level of demand, which requires investment now to get additional data center capacity and services online ahead of increased needs. The market may have reached this place eventually, but both customers and vendors are accelerating their cloud strategies to account for the more prominent role cloud will play in the overall IT market moving forward, even as COVID-19 fades, hopefully sooner rather than later.
https://tbri.com/wp-content/uploads/2021/04/image.png
288
426
Allan Krans, Practice Manager and Principal Analyst
https://tbri.com/wp-content/uploads/2021/09/TBR-Insight-Center-Logo.png
Allan Krans, Practice Manager and Principal Analyst
2021-04-05 10:10:49
2021-04-05 10:10:49
COVID-19 will fade, but cloud reliance will remain