Atos' sustainability play relies on ecosystems, science and leading by example

In mid-May, TBR met with senior leaders from Atos to discuss sustainability and Atos' role as an ecosystem orchestrator, a services vendor and a role model for decarbonization. Jason Warren, VP head of Atos' NetZero Transformation portfolio, and Miriam Hanckmann, head of Atos' Digital Net Zero Portfolio, walked through a detailed presentation, including alliance partnerships, case studies and Atos' overall strategy around sustainability. The following reflects both that discussion and TBR's ongoing analysis of Atos.
3 characteristics of Atos' approach may not be unique, but the combination is
Atos' Warren and Hanckmann highlighted characteristics of their company's approach to sustainability, which collectively may separate Atos from peers, even if other IT services vendors can claim one or two similar characteristics.
First, Atos knows it must work within an ecosystem and cannot provide services or advance sustainability goals alone, an approach that reflects the company's overall ethos of addressing climate change. Second, even with that understanding, Atos has become practiced at being customer zero, demonstrating the value of the company's sustainability efforts as blueprints for others. Lastly, and perhaps truly unique among peers, Atos relies on and boasts of a science-based approach that resonates with CIOs and other enterprise decision makers responsible for technology and sustainability. Atos leads with science, not just good ideas.
While these characteristics potentially separate Atos, some of the company's offerings could be replicated by firms better positioned to deliver value around government, risk and compliance, particularly the Big Four. In addition, Atos' sustainability engagements to date have been heavily weighted toward Europe, which may limit the company's global appeal and ability to deliver to clients worldwide. Even with these cautions, TBR's overall assessment remains that Atos has built substantial credibility, experience and expertise around sustainability that should keep it among the leaders in the space, even in the event of a company split.
Building an ecosystem sometimes requires establishing a star for the system to revolve around
Within the consulting and IT services space, many vendors claim to possess end-to-end capabilities, a description only applicable when the vendor defines the ends of the spectrum. In reality, every client engagement includes ecosystem partners as every consulting or IT services business problem cuts across more technologies and business challenges than any single vendor can handle.
Sustainability takes that reality and stretches it beyond imagination. Among an enterprise's strategies, the operations and responsibilities potentially implicated in meeting sustainability goals include — at the bare minimum — fleet and real estate management, procurement, supply chain, on-premises and cloud computing, emissions, and employee business travel. If no single IT services vendor or consultancy can address an enterprise's full range of sustainability needs, partnering across a well-curated and constantly tended ecosystem becomes essential. On this, Atos may stand apart from peers.
During the discussion with Atos' leaders, Hanckmann described the 330+-person EcoAct consultancy, acquired by Atos in 2020, as being staffed primarily with "climate PhDs." She added that Atos' technology capabilities, combined with EcoAct's consultants, would help the combined companies' clients use "digital to accelerate advisory … measuring emissions, gathering data, accelerating consultancy solutions." Hanckmann also noted that the Atos-EcoAct combination creates a "green network for cultural alignment, learning from each other what digital and climate mean and how they interact, so clients get the full spectrum and maturity of conversations."
In TBR's view, Atos could potentially leverage its independence from traditional governance, risk and compliance work as added value to enterprises looking to ensure financial performance metrics are not unduly influencing sustainability metrics.
The last 24 months have been marked by an uptick in large consultancies and IT services vendors acquiring sustainability or decarbonization boutiques, so what makes EcoAct special is the ecosystem Atos folded it into, one that includes Atos' long-standing relationships with Siemens, which is also one of Atos' key accounts, and Johnson Controls, as well as EcoAct's role in the Atos Climate Innovation and Knowledge Center (CLICK).
The special client relationships give Atos deep insight into sustainability challenges facing manufacturing companies, including, as described by Warren, "how to integrate products and provide real-time data." Warren added, "Tech partners like Johnson Controls develop and deploy building management systems," which Atos then aligns with hyperscalers and industry consortia to create a full package of data, analytics and decision making around decarbonization. Atos orchestrates others' efforts to bring clearly defined value to shared clients. Within the CLICK, EcoAct consultants works with "academic, institutional, public, and private partners" to "develop methodologies, analytics tools, tap key areas of expertise, and support customers … driving standardization and normalization in reports and publications," according to Warren.
While Atos' ecosystem strategy may not be unique among IT services vendors, the company's emphasis on partnering across a wide spectrum of sustainability stakeholders and actors, rather than touting stand-alone capabilities and offerings, demonstrates a maturity in thinking about decarbonization, reflecting Atos' relatively long-standing commitment to climate change efforts.
'Show me what you did, don't tell me what you know'
The customer-zero approach — selling to clients based on strategies, initiatives and technology-based solutions deployed by the vendor within its own operations — has been widely adopted in recent years, becoming a resonant use case, when applicable. In TBR's experience, Atos has rarely presented itself as customer zero, but with sustainability the vendor has been showing its own standards to clients and the internal lessons learned on adoption, measurement and change management. Clients, according to Warren, have been interested in not only the solutions but also what Atos did with its e-car fleet, remanufactured laptops and even its branding around carbon reduction.
Additionally, Atos built a carbon data platform internally, which the vendor now offers to clients as a tool, branded as MyCO2Compass, within a sustainability engagement or as a single offering within a subscription base. Perhaps the best summation of Atos' approach to selling its own record as a means of selling its services comes from the vendor's list of company credentials, which begins with: "Net zero is key to Atos' raison d'être."
According to TBR's March 2022 Digital Transformation: Cross-Vendor Analysis:
"As most enterprises consider sustainability to be part of broader DT programs rather than stand-alone initiatives, it is not surprising that buyers rank working knowledge of sustainability services-related compliance risk and privacy issues as the most critical attribute for vendor selection as they want to minimize business disruption.
"Vendors' market awareness backed by ongoing industry knowledge and investments in their own sustainability programs also rank among the most critical attributes, as vendors that can demonstrate business outcomes through industry-aligned use cases typically alleviate buyer concerns around new investments.
"Becoming customer zero is a well-known approach, particularly around sustainability, as it can accelerate vendors' opportunities in the space and supports them in two ways: first, as a PR vehicle and second, in building the necessary use case for conducting workshops. Price was among the important, but least critical, attributes for vendor selection, suggesting buyers are mostly in the exploratory stages and competition on the vendors' side has yet to intensify."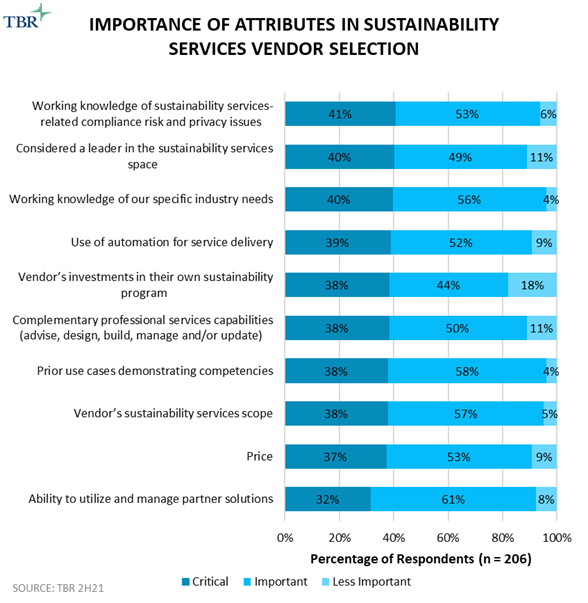 One last point on customer zero: As noted above, Atos' sustainability engagements have mostly been in Europe, which could potentially be played as a strength in two ways. First, Atos' efforts to meet European standards and regulations should resonate well with a predominantly European client base. Second, if Europe turns out to be a test bed for environmental regulation, as countries in other regions begin adopting similar legislation and monitoring and reporting structures, Atos will be able to demonstrate its own successful adaption to clients in those non-European jurisdictions.
Appealing to technologists through science
Finally, Atos leads with science, in a manner perhaps unique in the IT services space. Of course, all IT services vendors lead with and lean on technology, but Atos' approach comes across as more foundationally rooted in a scientific approach to solving business, technology, operational and — in this case — global problems.
The Atos Scientific and Expert communities provide research and promote Atos' approach to solving technology-related problems. And throughout the sustainability discussion and in countless briefings over the last dozen years, Atos has consistently placed the scienced-based core of its offerings at the forefront. Warren and Hanckmann mentioned science-based net-zero target setting, cooperation with universities around climate research, and 160 patents relating to decarbonization and energy efficiency.
Warren noted, "Decarbonization is embedded in everything Atos does, and we're working with R&D teams to devise reliable and tangible actions to deliver on carbon commitments in deals," further cementing the scientific emphasis. In TBR's view, Atos would benefit from leaning even more heavily into a science-based brand. Atos' capabilities are rooted in science, not just ideas. While every IT services buyer prioritizes differently — and perhaps European buyers, especially around sustainability, are bit more technology-oriented in contrast to U.S. buyers looking for consulting — most CIOs and CTOs, Atos' core buyer personas, appreciate the emphasis on science and data.
According to the same TBR digital transformation research as cited above, "Regional differences in vendor selection criteria underscore the importance of employing a localized go-to-market approach. For example, the top vendor attribute in North America was price, while in Europe respondents ranked vendors' sustainability services scope as No. 1. In APAC, working knowledge of sustainability services-related compliance risk and privacy issues was the top factor. We see European buyers as the most mature in both road mapping and executing around their sustainability initiatives as regional legislation requires compliance in certain areas, thus creating broader opportunities for vendors with comprehensive portfolio offerings that can also rely on and manage partner ecosystems."
Can Atos' approach maintain sustainability?
In TBR's view, Atos' current leadership around sustainability stems in part from the combination in full of these three characteristics: willingness to play across a wide ecosystem, dedication to implementing internally first and then rolling out solutions to clients, and leading with a science-based approach.
Atos' continuing leadership role in the sustainability space may also depend on these characteristics, as a potential global recession, continued high inflation, and an overall weariness of climate change challenges diminish buyers' willingness to spend on decarbonization efforts. By being able to tap into a wide range of solutions through partners and the continued ability to demonstrate decarbonization and financial success, all underpinned by relentless science, Atos may be part of the overall effort to keep up the necessary pressure to maintain corporate interest around sustainability. A tall order, but no doubt a welcome challenge for a company that has made net zero integral to its overall mission.
Atos' sustainability capabilities extend beyond what we have described above, and in the coming months, TBR will examine Atos' and other IT services vendors' and consultancies' decarbonization efforts and offerings in greater detail, in both the individual vendor reports and the upcoming Decarbonization Market Landscape.
https://tbri.com/wp-content/uploads/2022/07/co2-neutral-7139834_1920-1.png
1280
1920
Patrick Heffernan, Practice Manager and Principal Analyst
https://tbri.com/wp-content/uploads/2021/09/TBR-Insight-Center-Logo.png
Patrick Heffernan, Practice Manager and Principal Analyst
2022-07-18 18:12:30
2023-01-31 19:04:04
Atos' sustainability play relies on ecosystems, science and leading by example