How Telecom Infrastructure Service Companies Can Win in 2023
The telecom infrastructure services (TIS) industry is a $35 billion market that is expected to evolve and expand rapidly in the next 10 years. Government funding is driving network expansion projects by major telcos such as Verizon, AT&T and T-Mobile (as well as their international counterparts), and a whole ecosystem of large, established and interrelated vendors is jockeying for positions on deals.

That dynamic is making competition more challenging than ever. Labor shortages, wage inflation, workforce aging and other trends are pressuring vendors ability to stay above water, much less compete with peers.

TBR has helped telecom infrastructure services vendors navigate those dynamics for nearly 30 years. We publish research regularly that covers the TIS market and consult directly with hundreds of vendors.

In this white paper, we apply our expertise in the market and our learnings from those engagements to provide a playbook for how TIS vendors can win in 2023 and beyond. We analyze the trends facing the market, outline how we believe vendors can align themselves to compete, and share tactical steps on how to put this playbook into action.


Services power the build-out of global communications infrastructure
It is easy to picture the infrastructure that powers our global wireless and wireline communications networks. Even for the uninitiated, communications technology is everywhere. Driving down the highway, wireless towers are visible. Walking through a city, the communications infrastructure is noticeable on the outside and inside of buildings. Although they are not visible, we can envision the technologies comprising those networks: the towers and all the associated hardware and software as well as the fiber optic lines that run on poles and underground.

What is obvious, but often less buzzworthy than the technology itself, is the vast number of interconnected labor-based services that are required to build out these networks. There are thousands of different types of services involved in building a network, and thousands and thousands of global companies that supply those services.

TBR covers these services activities in the Telecom Infrastructure Services research stream, which tracks all of the capital expenditures and operating expenditures on services by communication service providers (CSPs), which by our definition include telcos, cable companies and hyperscalers such as Amazon Web Services (AWS), Azure, Google Cloud Platform (GCP) and others. The research stream covers all services related communications and IT infrastructure.

To help us make sense of this market and track it on an ongoing basis, TBR devised a services taxonomy framework for TIS that covers the full life cycle of activities associated with launching global communications networks. TIS comprises four main segments, and each segment contains a multitude of subsegments:
Professional Services, including consulting, network planning and design, network optimization, network infrastructure integration, OSS/BSS integration, application integration, security services, training services, and interoperability testing
Deployment Services, including engineering, site location and construction, equipment installation, and project management
Maintenance Services, including remote technical support, onsite technical support, repair and exchange, and installation of software maintenance releases such as updates and upgrades
Managed Services, including network out-tasking, network outsourcing, managed security services, managed OSS, managed BSS, and managed applications (VoIP, unified communications, internet applications, and all other types)
This standard services framework allows TBR to consistently and repeatably estimate the current and future size of the services market opportunity, as well as the financial performance and operational strategies of the key vendors that provide these services.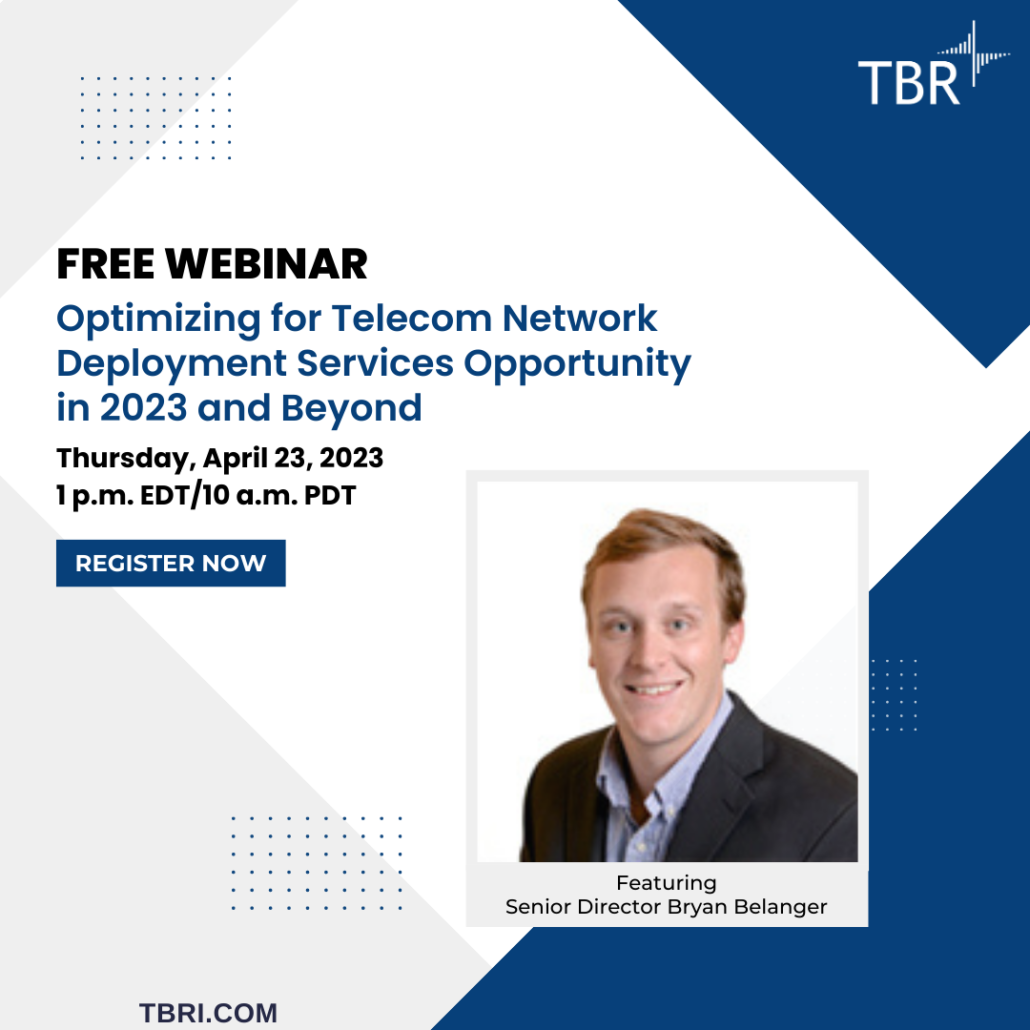 Telecom infrastructure services industry outlook
After several years of declines, the global TIS market overall returned to a positive growth trajectory in 2018, in line with TBR's estimates in the Telecom Infrastructure Services Global Market Forecast for 2018-2023, now that the 5G cycle is underway and webscales continue to increase their spend on network technologies to drive their strategic initiatives. Leading operators globally have shortened their 5G timelines by up to two years, and this has correspondingly pulled forward the TIS market growth curve by two years. 2018 was a key year during which leading operators invested to prepare their networks for 5G and, in some cases, began deploying 5G technology. This trend will play out over at least the next five years as operators build out their 5G networks and continue their transformational journeys toward becoming digital service providers.
https://tbri.com/wp-content/uploads/2023/03/AdobeStock_263924573-scaled.jpeg
1408
2560
Belanger, Senior Director
https://tbri.com/wp-content/uploads/2021/09/TBR-Insight-Center-Logo.png
Belanger, Senior Director
2023-04-07 15:26:22
2023-06-07 17:02:09
How Telecom Infrastructure Service Companies Can Win in 2023