Hyperscalers begin to shift capex from central cloud build-outs to edge cloud build-outs
Hyperscalers' focus is on creating value from distributed computing
Hyperscalers are at the cusp of scaling out their edge computing deployments as they focus on creating value from distributed computing, which is a key foundational aspect of their digital ecosystem initiatives. They must pivot from centralized data center build-outs to building out the edge to achieve the latency and quality of service that new network use cases will require.
TBR believes the world's largest hyperscalers are all likely to extend their cloud footprints closer to endpoints through this decade and expects hyperscaler capex will shift significantly from central cloud to edge cloud over the next five years. The Big Nine hyperscalers will drive significant innovation in the edge space, contributing design references, technology standards, and best practices to facilitate ecosystem development.
Hyperscalers have been experimenting with ways to make it more economically feasible to deploy distributed edge network resources at scale. The commercial model will likely see hyperscalers partner with ecosystem stakeholders, such as tower companies and data center real estate investment trusts, to offset the financial burden of deploying, owning and operating edge compute environments. For example, a hyperscaler could partner with tower companies to site micro data centers at the base of cell sites and plug directly into the access and backhaul network.
Models such as this would help defray the cost and complexity of building and managing many sites. TBR also believes telco sites, such as central offices and aggregation hubs, are logical locations for edge compute resources. These facilities are usually strategically located, are owned and controlled by the operator, have access to power and cooling, have fiber readily available, offer secure access, and are ruggedized to withstand the elements.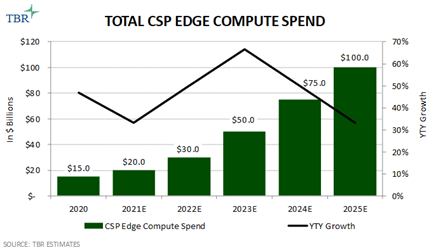 Telcos are divesting their tower assets, which limits their opportunities and market leverage in the edge compute space; supply issues delay rollouts
Telcos relinquishing control over network sites opens door for hyperscalers
Hyperscalers are likely to continue their encroachment of network ownership as they build out their distributed computing platforms. Network access sites, particularly cell sites such as towers, are of unique strategic importance as hyperscalers aim to extend their platforms closer to data origination sources. The ultimate shift toward open virtual RAN and the radio intelligent controller will also spur significant innovation at the access layer of the network, which will prove to be an area of keen interest to hyperscalers that are looking at how to capitalize on new opportunities presented by edge computing, 5G and AI.
TBR believes it is highly likely that hyperscalers will become key customers of shared infrastructure owners, particularly towercos, during this decade as their reach extends beyond their central clouds.
Supply chain constraints will delay peak telecom edge compute spend growth rate to at least 2023
Delays in chipset availability — partly due to the COVID-19 pandemic and partly due to geopolitical factors and technological complexity — will slow the pace at which the vendor ecosystem can meet customer demand for edge compute infrastructure through at least 1H22. Supply chains should be able to meet demand by 2H22, setting the stage for projected 66.7% year-to-year growth in the market in 2023.
Shipping constraints are another headwind to meeting demand. Even if products can be manufactured, there are chronic problems with exporting and importing those products and bringing them to customer sites. This too will push out build timelines.
TBR's Telecom Edge Compute Market Forecast, which is global in scope, details edge compute spending trends among communication service providers, which include telecom operators, cable operators and hyperscalers. This research includes current-year market sizing and a five-year forecast by multiple edge compute market segments and geographies. TBR's Telecom Edge Compute Market Landscape, also global in scope, deep dives into the edge compute-related initiatives of stakeholders in the telecom market, including telecom operators, cable operators, hyperscalers and vendors that supply the telecom market.
https://tbri.com/wp-content/uploads/2021/10/image.png
250
436
Michael Soper, Senior Analyst
https://tbri.com/wp-content/uploads/2021/09/TBR-Insight-Center-Logo.png
Michael Soper, Senior Analyst
2021-10-05 10:46:10
2021-10-05 10:46:10
Hyperscalers begin to shift capex from central cloud build-outs to edge cloud build-outs