TBR projects CSP spend on edge compute infrastructure will grow at a 46.1% CAGR from 2020 to 2025 and reach $100B
Key Insights
The Big Nine hyperscalers will collectively outspend the combined outlays of telcos and cablecos on edge compute infrastructure before the middle of this decade.  
All Big Nine hyperscalers are investing in the edge in some way. Amazon, Microsoft and Google have global ambitions for edge, though and the hyperscalers intend to partner with and/or compete against telcos and cablecos in the edge space.
Delays in chipset availability — due to the COVID-19 pandemic, geopolitical factors and technological complexity — will slow the pace at which the vendor ecosystem can meet demand for edge compute infrastructure through at least 1H22.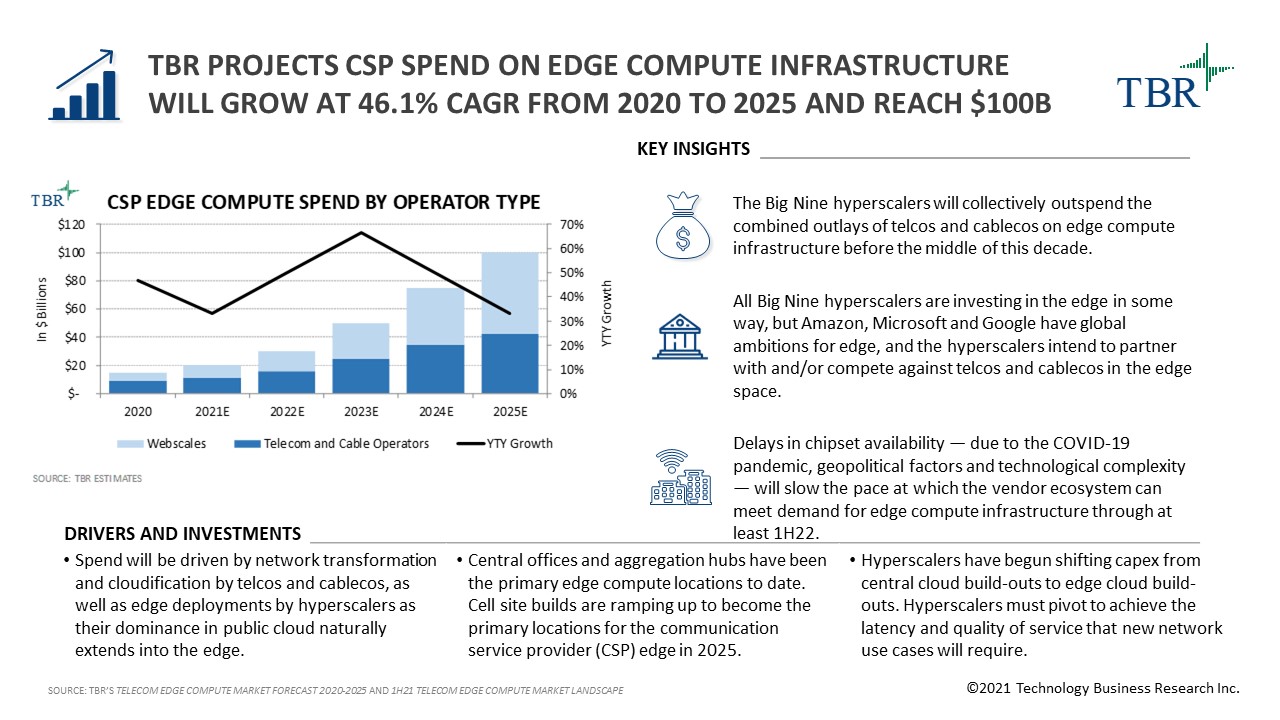 TBR's Telecom Edge Compute Market Forecast, which is global in scope, details edge compute spending trends among communication service providers, which include telecom operators, cable operators and hyperscalers. This research includes current-year market sizing and a five-year forecast by multiple edge compute market segments and geographies. TBR's Telecom Edge Compute Market Landscape, also global in scope, deep dives into the edge compute-related initiatives of stakeholders in the telecom market, including telecom operators, cable operators, hyperscalers and vendors that supply the telecom market.
https://tbri.com/wp-content/uploads/2021/10/TBR_INFOGRAPHIC_TelecomEdgeCompute_MLMF_4Q21.jpg
720
1280
Michael Soper, Senior Analyst
https://tbri.com/wp-content/uploads/2021/09/TBR-Insight-Center-Logo.png
Michael Soper, Senior Analyst
2021-10-05 09:59:51
2022-10-05 16:21:28
TBR projects CSP spend on edge compute infrastructure will grow at a 46.1% CAGR from 2020 to 2025 and reach $100B