Understanding industry needs and accelerating tech adoption: How IT services vendors are growing in financial services
Financial services benefited from emerging technologies over the past decade, creating a highly lucrative and exceedingly competitive market for IT services
While historically, financial services has been ahead of other industries in digital technology adoption, the COVID-19 pandemic accelerated technology-enabled transformations as IT services vendors and consultancies sought to address the needs of financial services clients, including the need to interact with customers and conduct business transactions through digital channels, as well as the needs of financial services employees, who began working remotely. Such changes in operating models drove an increase in advisory, application and infrastructure managed services work and accelerated revenue growth for IT services vendors beginning in early 2020.
With increasing pressure to embrace digital banking and digital payment platforms to address demand for cashless transactions across different economies and businesses, financial services clients look to transform supply chain, data analytics, management and workflow as well as address security needs and improve overall operations. These clients need to become agile, enhance their customers' experiences, and modernize their information and communication technologies environments. For IT services vendors, capturing market share requires a fundamental understanding of financial institutions' technology landscapes as well as a differentiated value proposition, pushing vendors to augment industry-specific capabilities through acquisitions.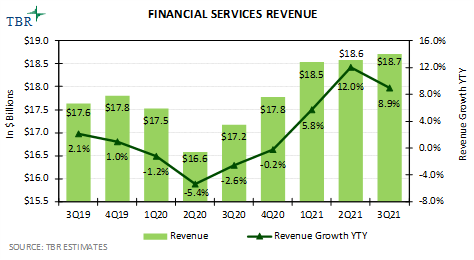 Revenue growth in the financial services segment of IT services was also driven by vendors addressing clients' needs around data protection, regulatory compliance and governance. Supporting adoption of next-generation technology solutions like blockchain to address topics such as commission tracking and recording, asset management, and AI-enabled hybrid cloud management is also a factor for revenue growth.
Leading IT services vendors leverage acquisitions to expand industry-specific capabilities and broaden client reach, particularly in Europe
Acquisitions enable vendors with well-executed strategies to access new portfolios, cultures and client bases, largely focusing on top-of-mind areas for digital transformation budget spending such as cybersecurity, AI and digital product engineering. As enterprises move IT workloads to the cloud, vendors are compelled to invest in both talent and technology to leverage newly accessible data for analytics and AI-powered insights. But as services remains a people business, we expect most vendors will continue to manage risk by assessing cultural and portfolio fit when selecting acquisition candidates.
https://tbri.com/wp-content/uploads/2020/07/money-2724241_1920.jpg
1297
1920
admin
https://tbri.com/wp-content/uploads/2021/09/TBR-Insight-Center-Logo.png
admin
2022-02-02 10:49:11
2022-02-02 10:49:11
Understanding industry needs and accelerating tech adoption: How IT services vendors are growing in financial services