Government stimulus and enterprise digital transformation will accelerate 5G deployments
Government stimulus will accelerate 5G rollouts
An increasing number of governments worldwide are becoming directly and/or indirectly involved in ensuring new technologies, such as 5G, are widely deployed in their respective countries. This spend is, in many cases, tied to economic recovery packages to counter the impact of the COVID-19 crisis and is being justified based on economic, national security and public health grounds.
TBR's research indicates governments worldwide will invest in excess of $2 trillion in the ICT sector over the next five years, starting in earnest in 2021. Of that $2 trillion, several hundred billion dollars will flow directly into the 5G market, primarily for the purposes of providing internet access to underserved and unserved people around the world as well as ensuring respective economies are able to transform to be relevant and competitive in the digital era.
China's CSPs will maintain an accelerated 5G rollout in 2021; domestic vendors will be primary beneficiaries
Following the temporary shutdown associated with China's initial battle with COVID-19 in 1Q20, China's CSPs accelerated rollout of 5G RAN, deploying 700,000 5G base stations in 2020, in addition to the 100,000 base stations that were rolled out in 2019. China's investment in 5G will remain elevated in 2021, with between 600,000 and 1,000,000 base stations set for deployment as the government makes 5G a centerpiece technology of its newest infrastructure development initiative.
These investments will primarily benefit China Communications Services (CCS), Huawei and ZTE, though Ericsson and smaller China-based vendor CICT are also taking part in 5G RAN builds. China's government heavily influences CSPs' contract allocation and prioritizes business for domestic firms. Huawei was allocated the bulk of business in the 5G cycle, increasing its share from the LTE cycle.
TBR believes China's ICT ecosystem has sufficient chipsets to meet the country's 5G RAN deployment targets in 2021, which suggests the supply chain encumbrances instituted by the U.S. government are not having a significant impact on China's original deployment timelines.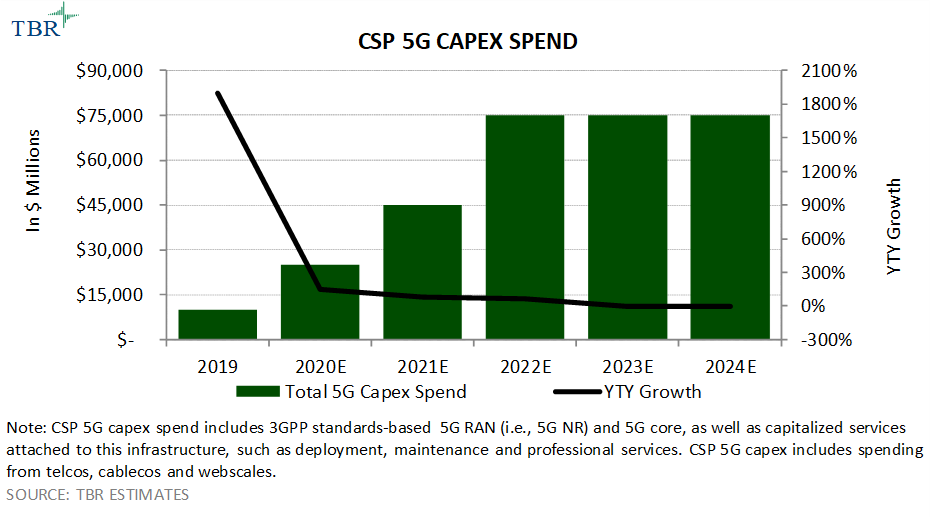 The 5G Telecom Market Landscape includes key findings, market size, customer adoption, operator positioning and strategies, geographic adoption, vendor positioning and strategies, and acquisition and alliance strategies and opportunities.
https://tbri.com/wp-content/uploads/2021/02/CSP-5G-Capex-Spend-2019-2024E.png
518
930
Michael Soper, Senior Analyst
https://tbri.com/wp-content/uploads/2021/09/TBR-Insight-Center-Logo.png
Michael Soper, Senior Analyst
2021-02-02 10:24:50
2021-02-02 10:24:50
Government stimulus and enterprise digital transformation will accelerate 5G deployments