COVID-19 shifts demands in the HCI space, creating opportunity for nimble vendors
Accelerated demand due to COVID-19 has more vendors focusing aggressively on the HCI market opportunity
Over 40% of data center customers already consume hyperconverged infrastructure and have relatively strong loyalty to their incumbent HCI vendor. Still, 33% of respondents in TBR's 2H20 Hyperconverged Platforms Customer Research report do not use HCI at this point in time, and HCI vendors will be focusing on this opportunity for market expansion.
Customers increasingly leverage HCI for digital-transformation-related workloads. The edge appears to be a key location for HCI installments, as the technology by definition is well suited for such deployments. IT modernization continues to increase demand for storage and compute capacity in remote and edge locations, and HCI is often the hardware of choice for such use cases.
Because there remains significant opportunity for private cloud and edge infrastructure — two uses for which HCI is heavily leveraged — competition is strong both from within and outside the HCI market landscape. Nontraditional competitors such as Amazon Web Services and ODMs increase their appeal by offering white-box private cloud hardware alternatives. At the same time, HCI vendors increasingly compete against each other and public cloud alternatives by offering new pricing models, as hardware commoditization squeezes the potential for differentiation through infrastructure innovation alone.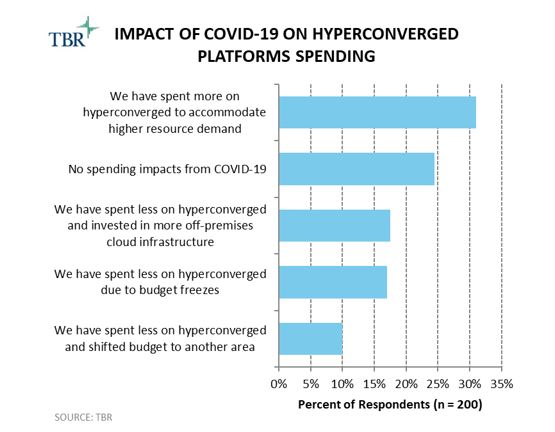 TBR's Hyperconverged & Converged Market Landscape provides a high-level view of both markets, including key trends, recent alliance and acquisition activity, and analysis of the customer adoption cycle, including total market data. This report's unique differentiator is its inclusion of nine deep-dive vendor profiles. This report largely focuses on which vendors are leaders, laggards and up-and-comers in the hyperconverged and converged markets, providing deep analysis into which vendors are differentiating themselves and how. TBR's Hyperconverged Platforms Customer Research, which surveys 400 decision makers annually, addresses hyperconverged infrastructure (HCI) vendors' customer-centric questions, drilling down into key categories such as adoption and budget, purchase drivers, workloads and attributes, purchase patterns, and vendor selection.
https://tbri.com/wp-content/uploads/2021/01/Impact-of-COVID-19-on-Hyperconverged-Platforms-Spending.jpg
432
555
admin
https://tbri.com/wp-content/uploads/2021/09/TBR-Insight-Center-Logo.png
admin
2021-01-14 13:01:44
2021-01-14 13:01:44
COVID-19 shifts demands in the HCI space, creating opportunity for nimble vendors