PwC offers rosy outlook for Middle East economies in 2023
Optimism abounds
On Jan. 31, PwC's Dubai, United Arab Emirates (UAE)-based partner and Middle East strategy leader, Stephen Anderson, hosted a webinar as part of the firm's ongoing "Transforming Our Region" series. The webinar included commentary from a PwC economist, Jing Teow; a Saudi Arabia-based PwC partner, Riyadh al-Najjar; and the CEO of local marketing firm Omnicom Media Group, Elda Choucair. The session touched on macroeconomic trends, PwC's recent CEO survey and the challenges of running a local company buffeted by global economic headwinds. TBR has attended numerous webinars in this series and believes this most recent edition may have been the most optimistic since the series started in the spring of 2020.
Teow, PwC's director for economics and sustainability, delivered a relatively positive outlook for the region's economic prospects in 2023, including assertions that the "GCC [Gulf Cooperation Council] will escape the global slowdown" and the region's non-oil economy will experience a "resurgence." Teow noted that sustained high average prices for oil and gas contributed to the sunny outlook, as did the rebound in tourism as visitors returned to the region in the wake of the pandemic.

In addition, government spending will continue to support national goals of broader economic diversification. Shifting to risks, Teow noted that while global inflation rates have been moderating, they remain high, particularly in the U.S., where even an easing to 6% would still be well above the Federal Reserve's 2% target. Centrals banks in the U.S., U.K. and European Union (EU), in TBR's interpretation of Teow's view, still hold considerable sway over macroeconomic pressures (and opportunities) in the Middle East.
Al-Najjar's commentary, coming in remotely from the Kingdom of Saudi Arabia (KSA), was notably upbeat, with the PwC partner noting that a surge in new company licenses in KSA was indicative of confidence in private sector growth prospects. Al-Najjar also noted the continued drive by private and public sector entities to diversify the economy and create jobs, particularly for Saudi nationals. (TBR cannot help but note that "localization" has been a government priority in the region since at least 1997.)
For local CEOs, the neighborhood looks great even if the world looks shaky
Anderson then led a discussion about PwC's recent Global CEO Survey, focusing on the results from CEOs in the MENA region — in short, their outlooks are bearish globally and bullish locally. With that mindset, regional CEOs are, in Anderson's telling, doubling down on transformation to both head off disruption and become more efficient. While CEOs in other regions might be reticent on M&A and laying off staff, leaders in the Middle East continue to look for investments and fight for the best talent. In Anderson's words, MENA CEOs are "confident and realistic."

Notably, according to Anderson, while the metaverse has not yet drawn a dedicated, significant following among regional CEOs, the same leaders have become more attuned to sustainability issues. In TBR's November 2022 Digital Transformation: Voice of the Customer Research, we included technologies supporting environmental, social and governance (ESG) initiatives as an option for buyers. Not surprisingly, this category ranked high, well above blockchain and the metaverse and just after 5G, which has been around for several years, indicating that buyers are still bullish on creating sustainability-ready business models despite macroeconomic headwinds and that vendors will continue investing in consulting and tech-ready frameworks supporting the opportunity.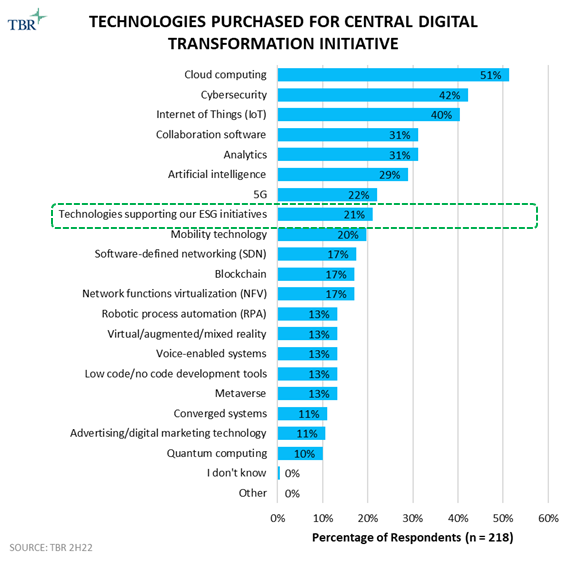 Rounding out the webinar, Choucair compared running a business in the Middle East to driving a car with two steering wheels and two drivers. While businesses need to respond to local issues and demands, they cannot ignore global trends. In addition, she noted the challenges of dealing with local enterprises still in the early stages of digital transformation (DT) even as other clients were much further advanced. On that point, she praised PwC for its ability to advise across a wide spectrum of clients' needs and maturities.
According to TBR's November 2022 Digital Transformation: Voice of the Customer Research: "The DT continuum remains fluid as enterprise buyers continue to adjust their operating models to ensure business continuity, leveraging cloud-enabled technologies at both the infrastructure and applications layers. … Given the uptick in incidences in the Legacy stage, we believe vendors have an opportunity to capitalize on lessons they learned from managing DT programs over the past decade. Vendors must account for nuances around evolving their partner ecosystems as they try to bring forward experience, industry knowledge and technical expertise. Executing successfully through managed services — which appears to be where many buyers within the Transformation stage are currently focused — can help vendors strengthen trust as they try to replace incumbents and support buyers that are currently in the Legacy stage of the DT continuum."
Full speed ahead for the Emiratis and Saudis
Anderson described four themes for the region for 2023: "staying confident," "doubling down on transformation," "turbo-charging digital" and "acting on climate." In TBR's view, this foursome may be unique to the Middle East, and especially to the UAE and Saudi Arabia. With the price of oil averaging nearly $100 per barrel in 2022, the UAE and KSA governments can continue to prime the pumps of their economies, invest in technologies and create employment opportunities for nationals.
Macroeconomic headwinds, particularly from increased interest rates in the U.S. and economic slowdowns in Europe, may dampen growth in the two largest Middle East economies, but locally based companies will continue to benefit from robust government spending and a sustained and increasingly successful effort to diversify away from oil. In short, 2023 should be a very good year in Dubai, UAE, and in Riyadh, Saudi Arabia.


Our most-read analysis, free in your inbox each week — Subscribe today!
https://tbri.com/wp-content/uploads/2023/02/dubai-1113262_1920.jpg
1920
1291
Patrick Heffernan, Practice Manager and Principal Analyst
https://tbri.com/wp-content/uploads/2021/09/TBR-Insight-Center-Logo.png
Patrick Heffernan, Practice Manager and Principal Analyst
2023-02-03 15:37:21
2023-02-13 19:48:33
PwC offers rosy outlook for Middle East economies in 2023