OEM earnings roundup: Unpacking a quarter of 'record growth'
OEMs boasted revenue and profit gains in the first calendar quarter of 2021
"Record growth" was a frequently repeated phrase over the last week as Dell Technologies, Lenovo, Hewlett Packard Enterprise (HPE) and HP Inc. reported their earnings for the first calendar quarter of 2021. For these major OEMs in the PC and data center hardware space, record gains in revenue and profitability have been hard to come by in recent years due to several factors including slowed PC refresh cycles, stiff competition from cloud offerings, component shortages, and uncertainty about the pandemic's impact on businesses and consumers.
For all these reasons, it was a pleasant surprise to witness a series of positive earnings announcements. But as one company after the next reported breaking multiple growth records in revenue and/or profit, it led me to wonder the degree to which business growth was based on increased economic stability rather than major changes in the OEM's go-to-market approach.
Comparing first quarter revenue figures from the last two years provides a good snapshot of how the hardware market has changed since the world was immersed in the COVID-19 pandemic. For Dell Technologies, HP Inc. and HPE, the earnings reported in the first quarter represent revenue from February to April. Looking back to 2020, this represents the time frame when many countries imposed lockdowns. Lenovo's earnings time frame is slightly different — reporting on revenue from January through March — but remains a good comparison, particularly as Lenovo may have felt the pandemic impacts earlier than peers as a China-based company, especially given that Lenovo has a manufacturing facility in Wuhan.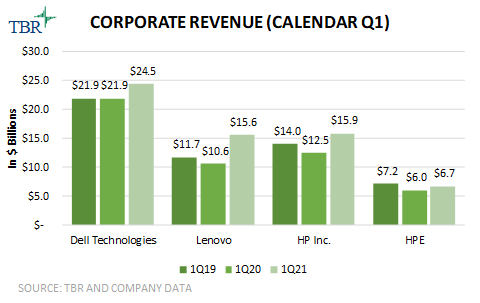 All vendors but Dell Technologies saw a first quarter corporate revenue decline of at least $1 billion in 1Q20 compared to 1Q19. In 1Q21 all vendors exceeded their revenue levels from the start of the pandemic, and three of the four grew revenue by $1.9 billion to $3.9 billion compared to 1Q19. This is impressive revenue growth for these vendors operating in mature and, in some cases, declining market segments. But are all business units growing equally? The fact that HPE was the only vendor of the four to not grow revenue in 1Q21 compared to 1Q19 and is also the only vendor in the compare lacking a PC business suggests growth is not consistent across hardware segments.
PCs are the driving force in the revenue rebound
Demand for both consumer and commercial PCs has been strong throughout the pandemic as many people spent an increasing amount of screen time at home for work, school and socialization. Dell Technologies, Lenovo and HP Inc. have not only reported 1Q21 revenue gains of billions of dollars compared to 1Q20, but the OEMs' revenue is also up significantly compared to 1Q19. In addition to pandemic-related demand for PCs, silicon supply shortages have also helped to stem the race to the bottom for PC prices. With limited chip supply available, Intel and peers have focused on producing higher-end chips for premium devices. OEMs are also less competitive on pricing while demand outweighs supply. Improving selling prices and shifting toward premium PCs benefit not only revenue but also profitability.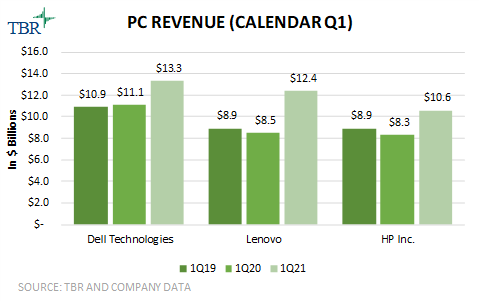 Data center is still not immune to the impact of cloud migration
OEMs' data center business units tell a different story. While the three vendors all reported increased year-to-year revenue in 1Q21, both Dell Technologies' and HPE's data center revenues are down compared to 1Q19. This suggests that year-to-year revenue gains represent customers showing less pandemic-related spending hesitancy and resuming delayed data center projects, while declines compared to 1Q19 align to the overall trend of enterprise data center consolidation in favor of public cloud. Although with the smallest data center revenue base, Lenovo was the only vendor in the comparison that increased revenue from 1Q19 to 1Q21, possibly buoyed by its Cloud Service Provider customer segment, which has higher demand for data center infrastructure compared to the enterprise segment. Overall, the revenue trends suggest that a favorable year-to-year compare may be masking impacts of public cloud adoption, which have accelerated through the pandemic.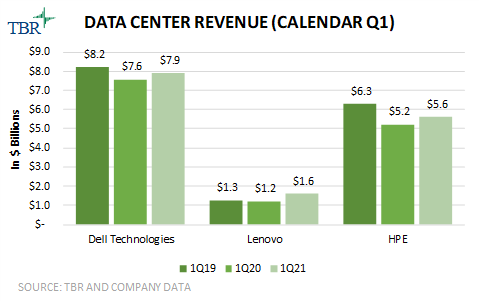 The 'record' trends are likely to continue this year
Looking ahead to the remainder of 2021, TBR expects the trend of favorable year-to-year compares to continue for hardware vendors as businesses gain confidence in resuming IT spend. Profitability will likely also remain strong as supply constraints on chips will lead to price premiums and a focus on selling high-end devices. The data center space will likely continue to benefit from pent-up demand, but will be offset to some degree by the ongoing trend of public cloud and SaaS adoption, leaving PCs to drive the largest OEM revenue increases in 2021.
https://tbri.com/wp-content/uploads/2021/06/laptop-2558400_640.jpg
426
640
Angela Lambert, Principal Analyst and Practice Manager
https://tbri.com/wp-content/uploads/2021/09/TBR-Insight-Center-Logo.png
Angela Lambert, Principal Analyst and Practice Manager
2021-06-07 08:58:00
2021-06-07 08:58:00
OEM earnings roundup: Unpacking a quarter of 'record growth'