No Matter Your Strengths or Strategy, You Must Partner to Deliver on GenAI Opportunities
In our June 2023 Digital Transformation: Cloud Ecosystems Market Landscape, we wrote that "the nascency of GenAI will require vendors to clearly articulate potential use cases to drive adoption. While content generation presents an easy-to-understand use case, deeper, specialized workflow automation will be more difficult to prove ROI on, as it will require greater time and money to tailor such automations to the enterprise.

TBR believes this work, paired with challenges such as data protection, will represent a significant consulting opportunity for the IT services community. Specifically, IT services firms possess not only the trust of buyers but also the knowledge of buyers' businesses to educate clients and then help tailor GenAI tools to their business needs. Service vendors, though, must account for the implications on their business models as GenAI matures." Not all IT services vendors have been taking the same approach, so let's look at the strategies and activities of three key players: Accenture, IBM Consulting and Dell Technologies.

Forging Different Ecosystem Paths on GenAI: Accenture, IBM Consulting and Dell Technologies
Drawing on the Success of Accenture Cloud First, Accenture Has an Obligation to Stay Abreast of GenAI-enabled Opportunities to Sustain Trust
As the race for generative AI (GenAI) supremacy heats up, Accenture has accelerated its investments to ensure it can secure a position among buyers going from exploring the technology to adopting it through the experimentation, implementation and management phases. Just as when the company earmarked $3 billion for Accenture Cloud First in the fall of 2020, Accenture recently announced an investment of $3 billion to enhance and expand its GenAI capabilities.

Notable investments as part of the announcement include adding industry solutions and prebuilt models to Accenture's Data and AI practice; launching AI Navigator for Enterprise, a platform that will arm Accenture's consultants with access to a library of use cases, thus accelerating time to market; and doubling in-house AI talent to 80,000. Additionally, Accenture deepened its relationships with Amazon Web Services (AWS), Microsoft and Google Cloud to further its collaboration on codeveloping GenAI-centric solutions and services across industry verticals and functional technology areas including supply chain, customer experience and healthcare.
Of course, Accenture is not alone in making such announcements as vendors across the professional and IT services spectrum are racing to stake a claim in the space, making it challenging to stand out during the hype cycle. Just as with any other technology, developing business use cases will be key to elevating the value of the technology, with improving productivity serving as the low-hanging fruit. Accenture's short-term advantage is that the company can rely on the trust it currently has among IT buyers, who for decades have depended on Accenture to fulfill their IT and business process needs.

Striking the right balance between developing GenAI sales campaigns and demonstrating value during times when enterprise buyers are becoming increasingly price-sensitive around their cloud spend will be key. During the company's FY3Q23 earnings call, Accenture's CEO stated that the company has won deals worth $100 million in GenAI-related revenue from 100 clients in the past four months. Accenture's install base of over 6,000 clients provides a strong conduit for net-new revenue, especially on the front-end consulting side. The bigger opportunity will come from using GenAI models in large transformation programs.

In the short term to midterm, though, the opportunity will revolve around Accenture helping clients establish data strategy and governance policies to ensure they can take full advantage of the technology.
Developing GenAI Capabilities and Utilizing a Client-first Approach Improve IBM Consulting's Business Transformation Expertise
In June IBM announced plans to expand its partnership with Adobe to provide content supply chain solutions based on Adobe's GenAI solutions, Adobe Sensei GenAI services and Adobe Firefly. IBM Consulting is launching a new portfolio of Adobe consulting services intended to help clients address complexities in the GenAI landscape and improve customer interactions. The partners will utilize IBM Consulting's services and Adobe's AI-enabled Content Supply Chain solution to build integrated content supply chain ecosystems. The development is a follow-up to an announcement in March when IBM Consulting, through its interactive experience unit IBM iX, created new content supply chain services that integrate Adobe's creative and experience technologies with the goal of driving visibility across creative and marketing projects and improving content across campaigns.
GenAI, which IBM sees as a solution that augments but does not replace human intelligence, provides IBM Consulting with opportunities such as helping clients transform business models, improve productivity, create new experiences and connect service delivery; however, these efforts must be aligned internally to drive change. IBM Consulting can support clients by taking a client-first approach in consulting and driving collaborative transformations, including utilizing the IBM Garage for GenAI methods that involve use case ideation as well as open, domain-specific and multimodel approaches to architecture selection and training. In addition to utilizing the IBM watsonx solution, IBM partners with Adobe, AWS, Microsoft, Salesforce and SAP to transform businesses across industries through GenAI solutions.
Dell Technologies Builds Out Its Ecosystem and Approach to GenAI
During Dell Technologies' 2Q23 earnings presentation, Jeffrey Clarke, COO and vice chairman, stated that Dell Technologies "can help customers size, characterize and build the GenAI solutions that meet their performance, cost and security requirements." The company recently announced Project Helix, a partnership with NVIDIA to create a repeatable solution for GenAI deployments. The solution utilizes PowerEdge servers optimized for generative AI training and inferencing, NVIDIA Tensor Core GPUs, NVIDIA networking, and options to pair with Dell storage appliances.

Dell Technologies views these trends as intersecting and strategically important as they can expand the company's total addressable market. It is taking an ecosystem approach to building out its overall portfolio as well as its "as a Service" APEX portfolio, which complements the company's multicloud partnerships with vendors such as VMware, Red Hat, Microsoft, AWS and Databricks. Dell Technologies is expanding its presence in these emerging technology areas by developing validated solution blueprints that bundle a full stack of technology that enterprises can deploy for their particular use cases.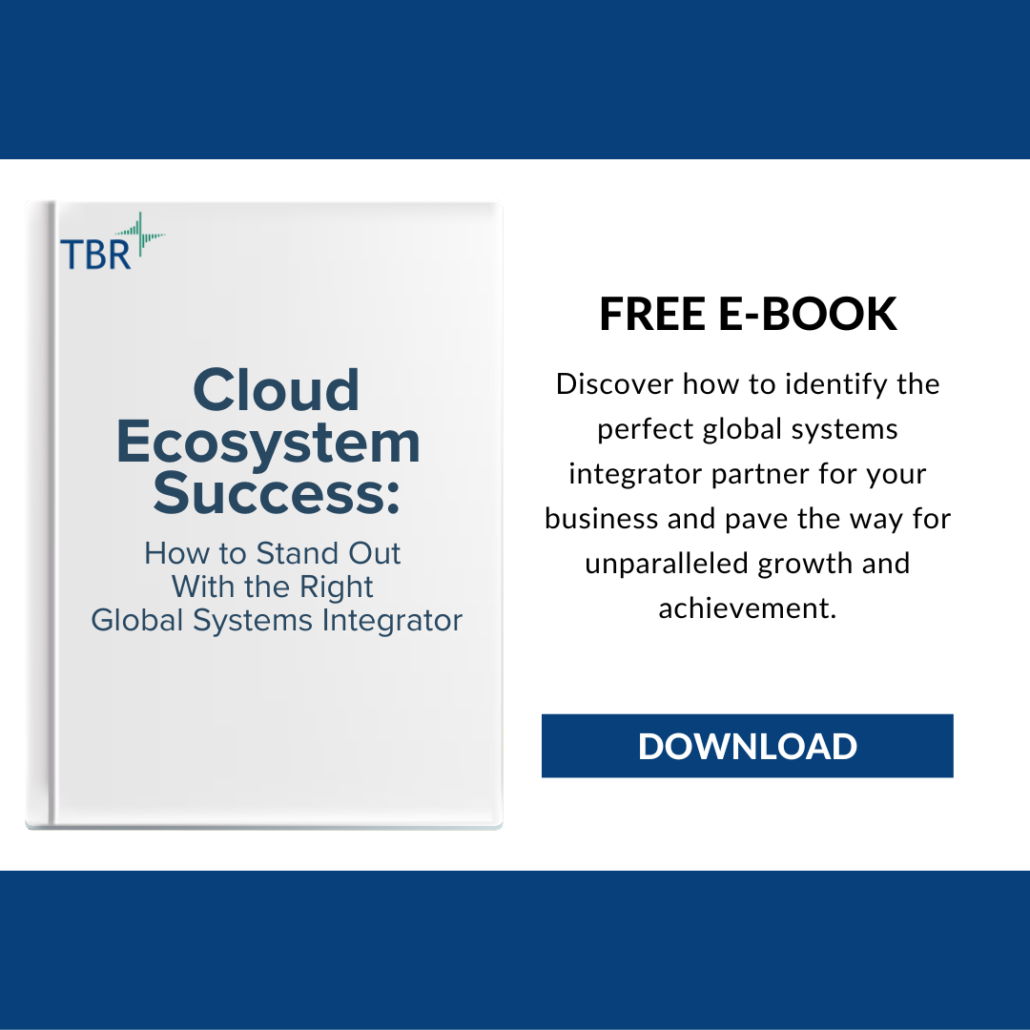 All About the Ecosystem
Even as Accenture, IBM, and Dell approach GenAI opportunities with different strategies, they share a reliance on ecosystem partners, reflecting the trend TBR has seen snowball over the last three years. No company is "end to end," particularly in a nascent technology like GenAI. TBR tracks more than 30 other IT services vendors and consultancies and has published assessments of their GenAI strategies and activities in both quarterly vendor-specific reports and the quarterly IT Services Vendor Benchmark.
https://tbri.com/wp-content/uploads/2023/10/business-partnership_peshkov_getty-images_canva-pro.png
1080
1080
Patrick Heffernan, Practice Manager and Principal Analyst
https://tbri.com/wp-content/uploads/2021/09/TBR-Insight-Center-Logo.png
Patrick Heffernan, Practice Manager and Principal Analyst
2023-10-06 14:46:33
2023-10-06 14:46:33
No Matter Your Strengths or Strategy, You Must Partner to Deliver on GenAI Opportunities