IBM makes smart IT services play in the U.S. federal sector IT services space
Gimme 3 — Insight Interview with TBR's Subject-matter Experts
In TBR's new blog series, "Gimme 3 — Insight Interview with TBR's Subject-matter Experts," Principal Analyst Patrick M. Heffernan discusses our latest and most popular research with our analyst team.
This month Patrick chats with Senior Analyst John Caucis, lead author of TBR's Federal IT Services Benchmark, and Senior Analyst Elitsa Bakalova, who leads TBR's coverage of IBM, about IBM's investments in serving the U.S. federal IT market.

TBR's most recent report on IBM Consulting detailed a recent acquisition, Octo, which is supporting IBM's efforts to grow in the U.S. federal sector. We reported: "Octo, which has approximately 1,500 employees, provides IT modernization and digital transformation services to defense, health and civilian agencies in the U.S. federal sector. The acquisition will complement IBM Consulting's existing capabilities in IT modernization and digital transformation. Octo will expand IBM Consulting's public and federal sector organization to 4,200 employees and contribute federal mission experience and certifications in technologies used by the federal government."

Patrick: With 4,200 employees focused on the public sector, including U.S. federal IT services, how does IBM stack up compared to larger players in the space as well as close peers, like Accenture, CGI and Deloitte?

John: Octo gives IBM Consulting's federal unit some much needed scale after the recent Kyndryl split. However, in terms of federal IT workforce, IBM Consulting is now only on par with ICF International (~4,700) and ManTech (~5,500 and likely declining as Carlyle restructures). Accenture Federal Services (AFS) has a federal workforce approaching 13,000 as a result of its own recent M&A activity and efforts to staff up to deliver recent big-ticket, strategic wins with the Transportation Security Administration, NASA, Department of Homeland Security, Centers for Disease Control and Prevention, and Department of Veterans Affairs. Most of those awards also represent wallet share gains for AFS, further illustrating AFS' competitive strength. Next up among the federal IT contractors that operate as divisions of a larger global technology services parent is CGI Federal, which employs between 7,000 and 8,000 federal IT workers and has been gaining traction with its suite of proprietary intellectual property (e.g., its Momentum ERP platform). Deloitte Federal is somewhere between CGI and AFS in terms of the size of its federal staff, but it has significant competitive advantages over IBM Consulting in the federal space in terms of advisory depth and breadth as well as its AI and analytics-heavy portfolio.

The legacy federal systems integrators, however, still have significant scale advantages. Leidos and General Dynamics Technologies have workforces approaching 40,000 strong, while other Tier 1 integrators, such as Booz Allen, CACI and SAIC, go to market with federal workforces over 20,000.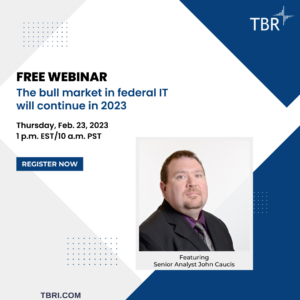 Patrick: So, with IBM Consulting's smaller scale in a highly competitive market, which federal sector trends do you think will benefit it over the long term?
John: Fortunately, despite IBM Consulting's scale disadvantages, the ongoing bull market in federal technology provides enough headroom for growth for vendors outside the Tier 1 players, making this the ideal time for IBM Consulting to carve out a niche in federal technology. I believe Octo is a great buy for IBM Consulting to quickly expand its federal footprint and do so in technology areas where spending growth will be sustained for several more budget cycles, through modernization, security, and the convergence of AI/analytics and hybrid cloud. I also believe that IBM Consulting should leverage the fiscal war chest available from its global parent and continue acquiring peers that give it additional scale, positions on key federal IT programs, and capabilities in digital transformation, AI, analytics, cloud and automation. IBM Consulting may not win as many prime contractor positions as its larger peers, but it does have a compelling mix of offerings.

Hybrid cloud is likely to be the tip of the spear for IBM Consulting in federal IT, and the opportunity is significant. Many agencies have indicated a strong preference for migrating to a hybrid cloud environment, but many more have yet to begin the process. IBM Consulting has the chops to enable its federal customers to implement a cloud solution that can balance what they want to retain on premises and what they want to move to a public cloud. We believe federal agencies are most amenable to the hybrid cloud approach because of the emphasis on improving citizen services and driving more computing to the edge (both in civilian and military contexts). This will be particularly important as agencies add mobile front ends to systems and improve how they interact with citizens. IBM Consulting is a strong player in the commercial hybrid cloud arena, and it can parlay many of its commercial sector strengths into success in the federal space.
Patrick: For additional context, we've highlighted IBM Consulting's public and federal sector practice, but how large is that practice within IBM Consulting? What's the revenue contribution, and is the practice driving new or significant growth?
Elitsa:Expanding U.S. federal sector expertise diversifies IBM Consulting's revenue streams and strengthens its coinnovation capabilities. According to TBR estimates, the public sector globally accounted for approximately $2 billion in 2022, or a little over 11% of global revenue for the full year; however, it is one of the smaller sectors for IBM Consulting in terms of revenue share compared to larger sectors such as financial services. IBM Consulting's federal revenue grew nearly 20% year-to-year in 2022 and accounted for approximately 40% of public sector revenue. IBM Consulting's emphasis on nurturing client relationships, along with its proximity to clients and understanding of industry nuances and regulations, enables it to capture opportunities in a dynamic market environment.

IBM Consulting's growth in the U.S. federal sector was driven by activities such as its deal with the Defense Microelectronics Activity to provide security services that enhance the U.S. Department of Defense's microelectronics supply chain for critical mission platforms and with the U.S. Department of Education to provide technology strategy and implementation services to consolidate and migrate the system to Amazon Web Services.

Patrick: So, the bottom line, as I see it: IBM is making a smart bet that the U.S. federal sector will continue to be a growth driver for the company, even if it is less than 10% of IBM's total revenue. IBM is backing up that bet with an acquisition, and today's trends in the U.S. federal sector favor IBM's approach to IT services, including partnering across the tech ecosystem, as well as its current strengths and capabilities. We'll keep a close eye on IBM's progress in 2023!

Fill out the form below to receive weekly free resources and upcoming webinar invitations
https://tbri.com/wp-content/uploads/2022/09/Gimme-3-Insight-Interviews-with-TBRs-Subject-matter-Experts.jpg
1080
1080
Patrick Heffernan, Practice Manager and Principal Analyst
https://tbri.com/wp-content/uploads/2021/09/TBR-Insight-Center-Logo.png
Patrick Heffernan, Practice Manager and Principal Analyst
2023-02-17 14:42:07
2023-02-17 15:00:24
IBM makes smart IT services play in the U.S. federal sector IT services space