Hyperscalers' cloud-based modern network architecture provides strategic advantage over legacy network technologies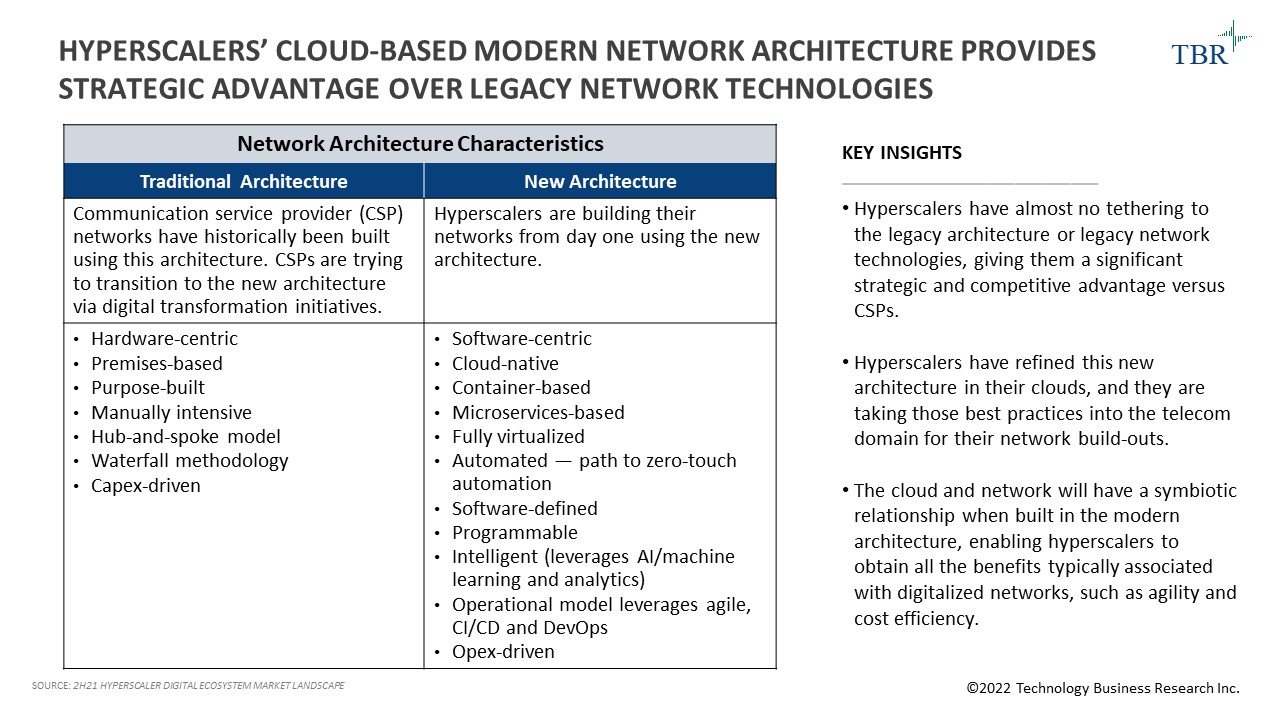 Hyperscaler-built networks will look very different from traditional networks
Hyperscalers are building end-to-end networks that embody all the attributes and characteristics coveted by communication service providers (CSPs) as part of their digital transformations. The most significant differences are in the software stack and the access layer, where new technologies enable hyperscalers to build dense mesh networks in unlicensed and/or shared spectrum bands and build out low Earth orbit (LEO) satellite overlays for access and backhaul. Mesh networks will likely be used to provide low-cost, wireless-fiber-like connectivity in urban and suburban environments, while satellites will primarily be leveraged to provide connectivity to rural and remote environments.
Hyperscalers are starting from scratch, completely reimagining how networks should be built and operated. Their clouds, numerous network-related experiments over the past decade, plus the raft of new network-related technologies on the road map will enable hyperscalers to build asset-light, automated networks at a fraction of the cost of traditional networks.
Hyperscaler networks will cost a fraction of traditional networks
TBR estimates hyperscaler networks cost 50% to 80% less to build than traditional networks (excludes the cost of spectrum, which would make the cost differential even more pronounced because hyperscalers will primarily leverage unlicensed and shared spectrum, which is free to use). Most of the cost savings stems from innovations, such as mesh networking, carrier aggregation, LEO satellites and integrated access-backhaul, that enable significantly less wired infrastructure to be deployed in the access layer for backhaul and last-mile connection purposes.
For example, Meta's Terragraph mesh access point can autonomously hop signals through multiple other access points before sending the data through the nearest available backhaul conduit. In the traditional architecture, some form of backhaul would need to connect to each access point to backhaul the traffic. Mesh signals could also be backhauled through LEO satellites, further limiting the need to deploy wired infrastructure in the access layer, which is one of the most significant costs of traditional networks.
Another key area of cost savings stems from cutting out certain aspects of the traditional value chain. By open-sourcing some innovations, such as hardware designs, hyperscalers can foster a vibrant ecosystem of ODMs to manufacture white boxes to compose the physical network. The white-boxing of ICT hardware can lead to cost savings of up to 50% compared to proprietary, purpose-built appliances.
Related Content:
Top 3 Predictions for Telecom in 2022
Webinar: 2022 Predictions: Telecom
https://tbri.com/wp-content/uploads/2022/02/TBR_INFOGRAPHIC_HyperscalerDigEcoML_2H21.jpg
720
1280
Chris Antlitz, Principal Analyst
https://tbri.com/wp-content/uploads/2021/09/TBR-Insight-Center-Logo.png
Chris Antlitz, Principal Analyst
2022-02-14 10:15:00
2022-10-06 13:46:40
Hyperscalers' cloud-based modern network architecture provides strategic advantage over legacy network technologies