Digital transformation advances analytics and insights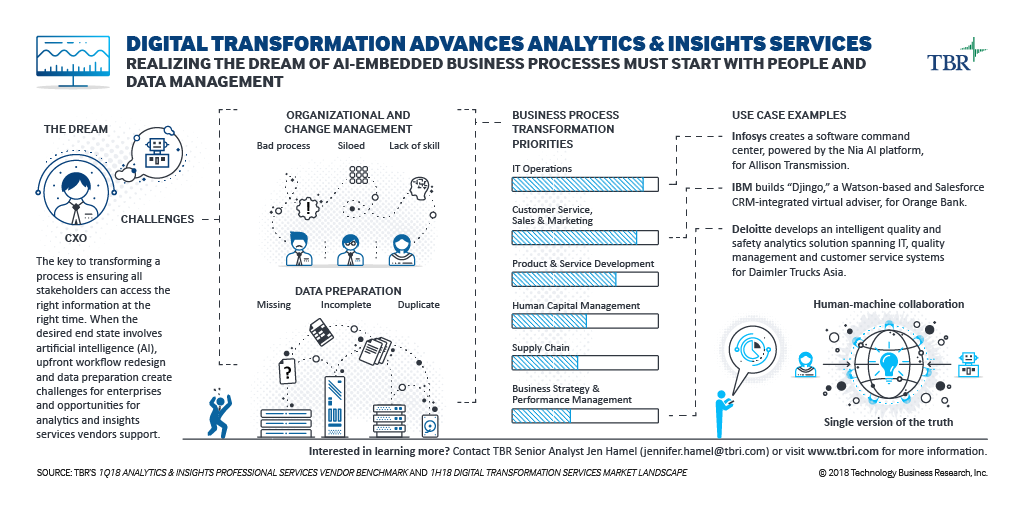 Realizing the dream of AI-embedded business processes must start with people and data management
Every enterprise looks to use emerging technologies to cut costs, grow revenue or create new business models. The combination of changes in how people work and what new technologies can best be applied creates massive opportunities for services vendors. This new market — broadly defined as "digital transformation" (DT) — will evolve through the current hype peak into a long, steady stream of fundamentally traditional services engagements involving a mixture of process knowledge and technical expertise. Though no longer "emerging" technologies, data management and analytics software remain at the core of DT initiatives and adoption of truly emerging technologies such as artificial intelligence (AI). As the analytics and insights (A&I) professional services market matures, competencies around AI, human-centric user experience design and DT-related change management will be key to vendors' future growth.
To sustain A&I professional services opportunities over the long term, vendors must stay on top of AI technology developments while maintaining a broader perspective on the impact of AI on clients' business processes and human resource (HR) strategies. As AI adoption grows, so does the technology's complexity, particularly at the intersection points between humans and machines and between regulatory policy and technological innovation. We expect rising concerns around security and governance, regulatory compliance, and HR implications of AI systems will continue to drive consulting and solution design engagements tied to broader DT initiatives. To capture these expected opportunities, A&I services vendors invest in service and technology offerings to assist clients with AI adoption — from upfront advisory to data integration, application development and managed services. However, despite vendors' massive investments in AI capabilities and a growing number of high-profile use cases for the technology, TBR's research around enterprise DT initiatives indicates clients have not fully bought into the value services vendors can provide in creating AI solutions, suggesting vendors have a marketing challenge to overcome.
The model for a successful vendor is indeed a tall order. Our research indicates enterprises undergoing DT want vendors to understand their business problems in both industry and functional contexts, create solutions that mesh with their existing IT environments and maintain security, and cultivate robust ecosystems of best-of-breed technology partners. While building out strategies around each of these pillars, vendors should message how they can address technical challenges such as data preparation and training to help clients start and continue experimenting with AI, as well as provide process transformation and change management advice to enable clients to bring those experiments to scale. Vendors must walk a fine line between establishing a long-term vision for the future of business and directing clients where to take the first step toward achieving their goals. Framing AI adoption in the context of methodical modernization of individual business functions, rather than as an excuse to play with cool new technology, will keep vendors on the right side of that line.
TBR will continue to monitor the impact of AI on vendors' go-to-market strategies and enterprise customers' IT and professional services buying behavior through its Analytics & Insights Professional Services Vendor Benchmark, Digital Transformation Services Market Landscape and Digital Transformation Customer Research. For deeper insight on this topic, see our event perspective on the 2018 O'Reilly Artificial Intelligence Conference, held this past April in NYC.
For more information, contact Senior Analyst Jennifer Hamel ([email protected]).
https://tbri.com/wp-content/uploads/2021/09/TBR-Insight-Center-Logo.png
0
0
admin
https://tbri.com/wp-content/uploads/2021/09/TBR-Insight-Center-Logo.png
admin
2018-08-28 13:50:48
2022-10-06 13:32:44
Digital transformation advances analytics and insights