Leading enterprises are planning massive investments in DT; 5G implicated in many cases
Leading enterprises intend to spend big on digital transformation, which in many cases implicates 5G
Leading companies in their respective verticals, such as Amazon, Walmart, Walgreens, Ford and Deere & Co., are preparing to make relatively large investments in digital transformation (DT) over the next few years as they adjust to the post-pandemic new normal, respond to competitive pressures and capitalize on new opportunities. In many cases 5G will play a key role in these digital transformations, serving as a foundational platform that will support these enterprises' digital infrastructure and business operations (e.g., drone operations and reimagined in-store experience). Ecosystem players are striking strategic partnerships with some of these key enterprises (e.g., Verizon with Walmart and Walgreens) to capitalize on opportunities brought about by 5G as well as edge computing and AI.
Several early adopter enterprises have opted for 5G versus Wi-Fi 6, portending a market shift toward cellular
Several leading enterprises, such as Whirlpool, have made a strategic decision to deploy 5G versus Wi-Fi 6 in their factories after their assessments deemed 5G can better meet their long-term needs. These decisions are in line with TBR's belief that 5G should be viewed as a future-proof connectivity platform that will serve as a foundation for enterprise digitalization. Though Wi-Fi 6 (and LTE) will have their place in enterprise networks going forward, TBR expects the pendulum to swing more toward 5G as the de facto connectivity technology for enterprise communications and IT-OT convergence.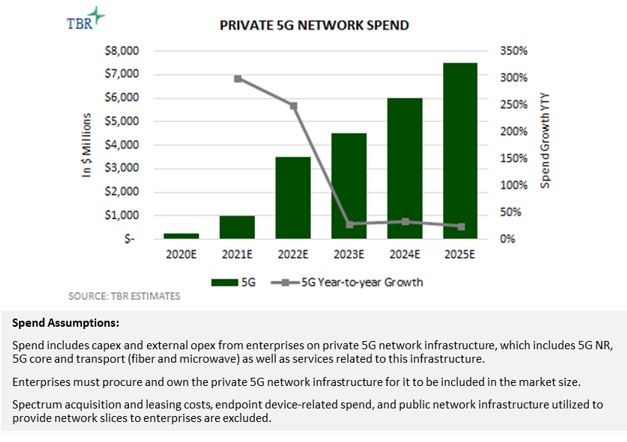 TBR's Private Cellular Networks Market Landscape deep dives into the market for private cellular networks. This global report covers enterprises that are investing in private cellular networks as well as all of the major vendors and some nascent players that provide infrastructure products and services in this space. The research includes key findings, key market developments, market sizing and forecast, regional trends, technology trends, vertical trends, use cases, and key customer deals, alliances and acquisitions that are occurring in the market.
https://tbri.com/wp-content/uploads/2021/01/Private-5G-Network-Spend-2020E-2025E.jpg
442
627
Chris Antlitz, Principal Analyst
https://tbri.com/wp-content/uploads/2021/09/TBR-Insight-Center-Logo.png
Chris Antlitz, Principal Analyst
2021-01-22 11:40:44
2021-01-22 11:40:44
Leading enterprises are planning massive investments in DT; 5G implicated in many cases