Kyndryl has the freedom to choose its own destiny
Kyndryl will grow as an independent company using mission-critical expertise, data capabilities, IP and partner ecosystem
Kyndryl (NYSE: KD), a $19 billion spinoff from IBM (NYSE: IBM), operates as an independent company in the managed infrastructure services segment and designs, builds, manages and modernizes mission-critical technology systems. Kyndryl has existing infrastructure services strengths that were built over the years when the company was part of the IBM Global Technology Services (GTS) business unit. Established relationships with 75% of the Fortune 100 companies and more than half of the Fortune 500 companies will enable a smooth start for Kyndryl customers.
The company brings with it skilled talent, intellectual property (IP) and a unified services delivery platform that will support business expansion in areas such as cloud, security, cyber resilience, data, AI, automation and network edge technology across industries. Kyndryl has established efficient organizational, go-to-market and operating models that are less complex compared to IBM's models for the former GTS business unit.
Additionally, Kyndryl has the freedom to choose which vendors to work with, so the company is progressively expanding its alliances and partner ecosystem with emerging technology providers, hyperscalers and ISVs to improve its ability to deliver solutions based on customers' choices and needs and collaboratively deliver business outcomes through holistic solutions.
Kyndryl at a glance
Kyndryl designs, builds, manages and modernizes complex, mission-critical information systems supporting customers' digital transformation activities.
While Kyndryl is a new brand in the managed infrastructure services segment, the company has an established customer base, skilled talent, IP and expertise around modernizing and managing customers' mission-critical systems.
Kyndryl has the freedom to establish a strategic direction that is aligned to the market in which it operates and has the flexibility to design its operations in ways that enable the company to deliver profitable growth.
 Kyndryl is positioning to deliver agnostic and multivendor technology capabilities through an expanded partner ecosystem, including by building strategic relationships with leading hyperscalers such as Amazon Web Services (AWS), Google Cloud and Microsoft (Nasdaq: MSFT).
Kyndryl is sixth in total IT services revenue and first in managed infrastructure services revenue among the 31 vendors covered in TBR's IT Services Vendor Benchmark.
Kyndryl is taking actions to transform its business and strengthen its revenue, signings and margin profile through 2025, following a plan focused on three areas: alliances, advanced delivery and accounts. The company's revenue declined 7.5% year-to-year to $4.6 billion in 4Q21 as reported in U.S. dollars and 3.6% year-to-year to $18.7 billion in calendar 2021. Adjusted EBITDA margin decreased to 14.6% of revenue in 4Q21 on a pro forma basis, down from 18.2% in 4Q20, and to 14.7% of revenue in 2021 on a pro forma basis, down from 15.3% in 2020. Signings declined 22.8% year-to-year to $4.4 billion in 4Q21 and 24.2% year-to-year to $13.5 billion in 2021, negatively affected by uncertainty around the spinoff of Kyndryl from IBM.
Freedom and flexibility are the defining principles of Kyndryl's organizational development
On Nov. 3 IBM completed the separation of its managed infrastructure services business to form Kyndryl, which has operations in 63 countries, approximately 89,000 service professionals with an average field experience of more than 10 years, and more than 4,000 blue-chip customers.
Kyndryl has the freedom to establish its own market-specific strategic direction and the flexibility to design its operations to drive profitable growth. The guiding principles for its organization are flatter, faster and focused — flatter in terms of Kyndryl's new operating model; faster related to speed in delivery through simplification; and focused on providing innovation and value through agility. Kyndryl is also using its existing expertise in infrastructure services, which are supported by a global delivery network and operations in more than 100 countries, and capabilities in designing, building, managing and modernizing mission-critical information systems to bolster its growth. Existing expertise, coupled with global scale; IP, including more than 4,000 patents; methods; models; and breadth and depth of talent enable Kyndryl to advance customers' digital transformations.

Having an operating model that is organized around customers and their geographic locations improves Kyndryl's ability to align its expertise with local market trends and deliver business outcomes. Country leaders and managing partners collaborate with customers in their home geographies, and knowing the language and having a cultural affinity enable Kyndryl to establish strong customer relationships.
Kyndryl has six global practices — Cloud; Applications, Data & AI; Security & Resiliency; Core Enterprise & zCloud; Network & Edge; and Digital Workplace — and an Advisory and Implementation Services practice that underpins these six businesses to enable adoption and integration of advanced technologies that drive business progress. As Paul Savill, global practice leader, Network & Edge explained during a briefing on the practice, Kyndryl is developing competencies and innovation at the global practice level, and teams in regions look to the six practices to create solutions that customers request.
The company delivers integrated solutions across the six global practices and provides customers with holistic solutions and a unified customer experience. Kyndryl enables customers to modernize technology and operations with faster time to value, improving business outcomes and experiences. Kyndryl's new structure resembles the growth model Accenture launched in March 2020, rolling up the P&L on a geographic basis due to the need for client proximity and culture affinity and also because most technology partners' sales models are aligned by territory.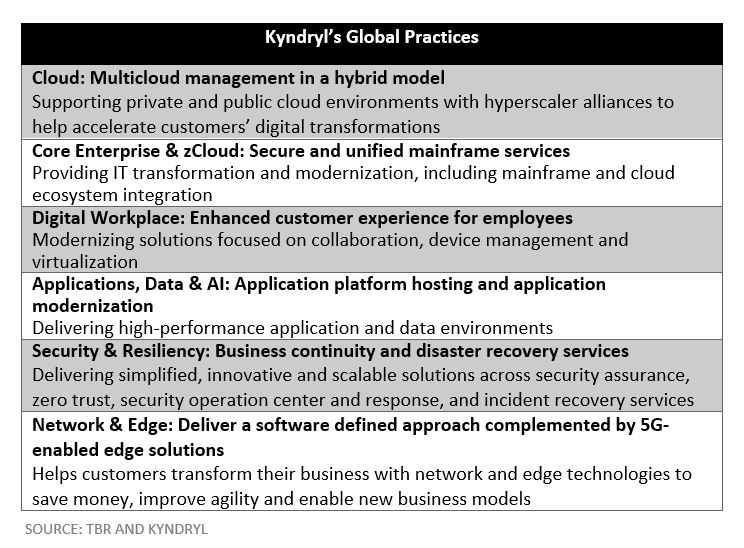 In March Kyndryl's Third Party Advisor group organized virtual briefings on the six global practices. Key highlights from the briefings include:
Cloud: Drawing on its years of experience managing complex infrastructures under the GTS umbrella at IBM, Kyndryl has built a dedicated cloud practice centered on hybrid multicloud. With 3,000 cloud-related patents spanning multicloud management, orchestration and monitoring, among other close-to-the-box software assets, Kyndryl is enhancing its traditional managed services business model with self-service solutions. IP within GTS has translated to what is now the Kyndryl Cloud Management Platform (KCMP), which acts as a landing spot for Day 2 provisioning, monitoring, and managed IaaS and PaaS consumption for the enterprise. While the largest segment for Kyndryl's Cloud practice, hybrid multicloud is only one piece of the puzzle as the company also offers end-to-end services, including cloud consulting, migration, modernization and optimization. Historically, GTS was solely responsible for IT consulting and infrastructure management, leaving the higher-value services to IBM's former Global Business Services business unit, so naturally there will be some competitive overlap between Kyndryl and what is now IBM Consulting as Kyndryl expands its cloud consulting capabilities and delivers holistic solutions; this competition will appear in the initial advisory phases of cloud adoption but perhaps more so within modern operations as both companies build out their respective ITAM (IT asset management), enterprise catalog and AIOps tooling to help customers optimize investments in the cloud. To effectively monetize its offerings across the cloud consulting, hybrid multicloud and modern operations pillars, Kyndryl will execute on brand-name business groups with AWS, Microsoft and Google Cloud. While Kyndryl is currently an IBM Cloud customer, we also expect the company to use other platforms as these relationships develop. Kyndryl's cloud alliances may add another layer of friction in its relationship with IBM, although TBR expects impacts will be minimal as IBM takes an infrastructure-agnostic approach, enabling its software and services on clouds other than its own. Even considering its base of 1,600 cloud customers and streamlined go-to-market model, Kyndryl is playing in a competitive space and will be challenged for deals from brand-name global systems integrators (GSIs) and, to a degree, IBM Consulting. As such, partnerships with the hyperscalers alone may not be enough to give Kyndryl the competitive edge it needs; focusing on tactical services while translating metadata into business value and quick ROI could be Kyndryl Cloud's top routes to success, yet this suggests IBM, while a strategic partner, could end up evolving into one of Kyndryl's notable competitors.
Core Enterprise & zCloud: Kyndryl positions itself as a leading provider in mainframe solutions and services as it brings years of experience in the segment from its work as part of IBM. While the company delivers a broad range of services, including managed infrastructure and managed cloud, for the IBM Z and IBM i product solutions, it is expanding its services portfolio through internal development, acquisitions and alliance partners to address customers' specific needs around integration with hyperscale public cloud, application modernization and operation, and migrating and managing mission-critical workloads onto the most suitable platform. Scaling IT consulting and implementation services improves Kyndryl's ability to capture infrastructure transformation opportunities and support customers' adoption of hybrid cloud. As Jamie Rutledge, global practice leader, Core Enterprise & zCloud, explained, Kyndryl's goal is to be a partner to customers by working with them and taking into account their viewpoints to develop the right solutions, recommend the best practices, deliver advisory and implementation services to design the right customer strategy, and push IBM technology to perform at its best and with a high ROI. In a shift from IBM's strategy, Kyndryl will broaden relationships with and build the ecosystem of technology and service providers. The company will integrate platforms, assets, IP-based solutions and automation to facilitate activities and increase value for customers. Drawing on its history of operating in the segment, bringing skilled talent and investing in developing personal learning journeys for its approximately 8,000 mainframe experts will improve Kyndryl's ability to address dynamic market shifts.
Digital Workplace: Digital Workplace positions employees at the center of the hybrid workplace and emphasizes delivery of consumer-like experiences in a corporate world. Kyndryl bundles service-level agreements (SLAs) and experience-level agreements (XLAs) and cocreates with customers tailored XLAs around measurements that are important and tie with customers' targeted business outcomes. The company supports digital workplace customers on a global scale and has the freedom to act and partner with whichever vendors it wants. The Digital Workplace organization already existed in the former GTS, so the move to Kyndryl was quick and easy and enables continuity of customer relationships. As Mark Slaga, global practice leader, Digital Workplace explained, Kyndryl is making a big investment in customer satisfaction and ensuring it turns customers into references that can fuel sales growth. For example, Kyndryl increased its number of new customer references fivefold in 2021 compared to 2020. Advisory, implementation and workflow orchestration, and experience management services cut across all pillars of the Digital Workplace portfolio, and Kyndryl is expanding its advisory and implementation capabilities in the Digital Workplace practice to improve its ability to enhance customer experience, drive organization and change management, and ensure technology is used as a tool to achieve core business outcomes.
Applications, Data & AI: Kyndryl's Applications, Data & AI practice helps customers solve complex applications, data management and AI problems through comprehensive SAP and Oracle applications and data management services such as data modernization, data platform management and enterprise AI services. Utilizing a unified console, customers can also leverage open and secure design and methodologies to build augmented workflows and processes. Kyndryl utilizes its advisory and implementation services to accelerate customers' digital transformations and to benefit from cloud, security and data solutions. Integrating consulting with global processes, architectures and methods, and accelerators increases Kyndryl's value proposition.
Security & Resiliency: Kyndryl enables customers to integrate cyber resilience into their IT and operational strategy and to anticipate, protect against, withstand and recover from adverse conditions such as cyberattacks. While after the spinoff IBM maintained parts of the IBM Security portfolio, such as the IBM Security QRadar solution portfolio, from a customer perspective Kyndryl is the primary integrator and manager of security content. Kyndryl delivers cyber resilience services that encompass security assurance services, zero-trust services, security operations and response services and incident recovery services. Each offering has a set of consulting and managed services to address specific problems. As Kris Lovejoy, global practice leader, Security and Resilience, explained, Kyndryl differentiates based on its history in the segment and experience across a range of products, technologies and platforms. As Kyndryl modernizes IT environments, the company is utilizing a vendor-agnostic approach to technologies and focusing on the people and customer needs, solving problems through advanced technology skills and security expertise. Kyndryl has a well-developed portfolio of IP in security and resiliency, including approximately 480 patents and methodologies established throughout the years. The company utilizes its 7,500 skilled practitioners across the globe to support customers' distributed environments and address local regulatory requirements. Kyndryl implements and orchestrates recovery for customers, tapping into a library of more than 800 predefined automation patterns that enable recovery across levels such as data, applications and business processes. Kyndryl's automated and orchestrated recovery capabilities, such as the Cyber Incident Recovery offering, are based on a Kyndryl-owned IP asset that the company continues to develop and enhance and are an example of Kyndryl's differentiation in market.
Network & Edge: Kyndryl utilizes network and edge technologies to help customers transform their businesses and create new business models, generate cost savings, and improve agility. As Savill elaborated on during the briefing, Kyndryl's promise is to help customers in an unbiased way to evaluate the technology and build best-in-class network and digital distribution platforms leveraging network and edge compute technology. Expanding the partner ecosystem by teaming with vendors such as Microsoft, AWS, Google, Nokia (NYSE: NOK) and VMware (NYSE: VMW) around managing edge compute and private 5G solutions increases Kyndryl's value proposition and expands its customer reach. Delivering integrated solutions by working closely with the rest of Kyndryl's global practices improves the company's ability to deliver holistic transformations and expand wallet share with existing customers. What sets the company apart from its competitors in the network and edge segment are Kyndryl's global scale, vendor neutrality, certified resources and customer trust with critical network infrastructure and management. While Kyndryl brings its own opinion to customers' transformations, the company is committed to scanning the technology landscape to get to the best advice and fit for customers.
Developing its alliance partner ecosystem enables Kyndryl to diversify its portfolio and support its revenue growth and profitability expansion
Prior to the spinoff, the GTS business unit revolved around traditional IBM infrastructure services; however, Kyndryl has an opportunity to expand in areas related to digital transformation, data, applications and security services. IBM is Kyndryl's largest technology partner, given the historical relationship between the two companies. Kyndryl is also broadening its partner ecosystem by building relationships with hyperscalers, systems integrators, hardware and software providers, and next-generation technology providers as well as investing in broader service capabilities to diversify its portfolio, support growth and remain focused on solving customer challenges.
While Kyndryl has IT consulting and implementation experts who were brought over from GTS and are responsible for architectures and the technology side of transformations, the company is investing in expanding its advisory and implementation services to support its goal to increase revenue share in the service area from approximately 10% of revenue before the spinoff to 15% of revenue in the midterm. While Kyndryl has strong IT consulting expertise, areas such as business consulting and application modernization and transformation are less developed because such capabilities remained within IBM after the spinoff and are now part of the new IBM Consulting. Developing new joint solutions with partners is one lever for evolving the business mix and expanding advisory and implementation services.
TBR expects Kyndryl to increase interactions with strategy firms, such as McKinsey & Co. and Boston Consulting Group and Big Four firms, such as EY and PwC, to address the business side of transformations and be able to characterize what technology-enabled solutions Kyndryl needs to increase value for customers. TBR also expects Kyndryl to increase interactions with the new IBM Consulting to address business, applications and the process side of transformations.
Kyndryl's hyperscaler alliances include:
Microsoft: In November 2021 Kyndryl and Microsoft entered into a global strategic partnership to deliver solutions built on the Microsoft Cloud to enable hybrid cloud adoption, applications modernization and process improvement; support mission-critical workloads; and improve customers' work experience. The partnership will expand Kyndryl's reach to enterprises across industries through solutions such as data modernization and governance, AI-driven innovation, cybersecurity and resiliency, and transformation of mission-critical workloads on the cloud. The partners have established a coinnovation lab to develop service solutions built on Microsoft Cloud and show the value of transformations through investments and expertise from all parties involved in the process. Kyndryl will enable hybrid IT models through advisory, implementations and managed services utilizing more than 15,000 Microsoft certifications at the end of 2022, up from 1,000 at the end of 2020.
Amazon Web Services (a new relationship for Kyndryl): In February Kyndryl and AWS established a partnership to work with enterprises to build infrastructures in the cloud. The partners are establishing a global AWS practice with skills, offerings and expertise and are establishing an AWS Cloud Center of Excellence to support mission-critical infrastructure, innovation through next-generation technologies, and modernization of applications and workflows. The partners are also developing an accelerator for VMware Cloud on AWS and will provide expertise and custom solutions to combine customers' existing VMware investments with AWS solutions. Kyndryl has approximately 4,100 AWS certifications to design, build and manage mission-critical systems on AWS, a more than fourfold increase compared to the end of 2020, and plans to invest in educating more than 10,000 Kyndryl professionals on AWS by the end of 2022.
Google Cloud (a new relationship for Kyndryl): In December 2021 Kyndryl partnered with Google Cloud to enable digital business transformations for enterprise customers through infrastructure modernization and Google Cloud's data, analytics and AI solutions. Kyndryl will deliver managed services for Google Cloud to enable customers to run critical business systems on Google Cloud's infrastructure. Kyndryl, which has more than 2,300 Google Cloud certifications, up from zero certifications at the end of 2020, will scale skilled resources by establishing a Google Cloud Academy for Kyndryl that will support Google's goal of training 40 million new people on Google Cloud skills in the coming years.
Examples of Kyndryl's partnerships with other vendors:
IBM: IBM and Kyndryl will continue their long-term relationship across technology and consulting to create platforms that drive business outcomes for customers. Kyndryl has access to IBM's expertise and resources to jointly develop innovative solutions across Kyndryl's portfolio of services capabilities. Kyndryl's consultants are certified on IBM offerings and have access to IBM resources such as the IBM Lab Services support and expertise around IBM technology such as hybrid cloud, AI and security.
VMware: In November 2021 Kyndryl and VMware expanded their strategic partnership, which is based on a 20-year collaboration between VMware and IBM to support customers' application modernization and multicloud initiatives through solutions around multicloud infrastructure and management, digital workspace services, managed applications, resiliency and security, and network and edge computing. VMware will help Kyndryl expand its existing multicloud advisory, implementation and managed services around the VMware Tanzu platform and build capabilities around deploying vSphere workloads to VMware multicloud infrastructure on public clouds. In addition to being VMware's largest MSP, responsible for over 67,000 virtual systems, Kyndryl has more than 3,500 certifications in VMware technology. Kyndryl and VMware are developing and delivering solutions in a joint innovation lab.
Nokia (a new relationship for Kyndryl): In February Kyndryl and Nokia announced a global network and edge computing alliance to enable enterprise customers to benefit from industrial-grade LTE and 5G private wireless networking solutions. Joint solutions combine Nokia's Digital Automation Cloud application platform with Kyndryl's consulting, design, implementation and managed services capabilities and support customers' move to Industry 4.0. The partners plan to develop integrated solutions for edge cloud, IP networking, optics, fixed access, 4G and 5G core, and network operations software technologies that address demand for mission-critical, industrial-grade wireless networking.
Pure Storage (a new relationship for Kyndryl): In February Kyndryl partnered with multicloud Storage as a Service provider Pure Storage to offer cyber resiliency solutions at the storage layer to address customers' challenges around application and infrastructure modernization, automation, multicloud management and containerization, and enable cloud-based applications and data portability on premises and in the cloud.
Cloudera (a new relationship for Kyndryl): In March Kyndryl and Cloudera announced a global partnership to enable customers to support hybrid cloud, multicloud and edge computing data activities. The partners are establishing an innovation center to develop solutions and capabilities that support migration to the cloud platforms that they choose, such as AWS, Google Cloud and Microsoft Azure.
Lenovo: In March Kyndryl and Lenovo expanded their existing global partnership to develop hybrid cloud solutions and edge computing implementations. Joint offerings will emphasize automation, optimization and IT infrastructure services to address customers' needs around managing distributed applications on premises and in the cloud. Lenovo and Kyndryl will jointly work in IT server projects for PCs, servers, storage and edge compute, and Kyndryl will provide managed services skills. The joint initiative will provide solutions around hybrid cloud, hyperconverged infrastructure and edge computing applications.
Kyndryl ended 2021 with declining revenue and deteriorated profitability
On March 1 Kyndryl reported financials for the first time since its inception. During 4Q21 Kyndryl's revenue declined 7.5% year-to-year as reported in U.S. dollars and 4% year-to-year in constant currency to $4.6 billion. For 2021, revenue on a pro forma basis declined 3.6% year-to-year in U.S. dollars and 5% year-to-year in constant currency to $18.7 billion. Adjusted EBITDA margin decreased to 14.6% of revenue in 4Q21 on a pro forma basis, down from 18.2% in 4Q20, and to 14.7% of revenue in 2021 on a pro forma basis, down from 15.3% in 2020. Operating margin declined to -15.3% in 4Q21, down from -14.1% in 4Q20, and to -9.8% in 2021, down from -8.7% in 2020. Signings declined 22.8% year-to-year to $4.4 billion in 4Q21 and 24.2% year-to-year to $13.5 billion in 2021, negatively affected by uncertainty around the spinoff of Kyndryl from IBM.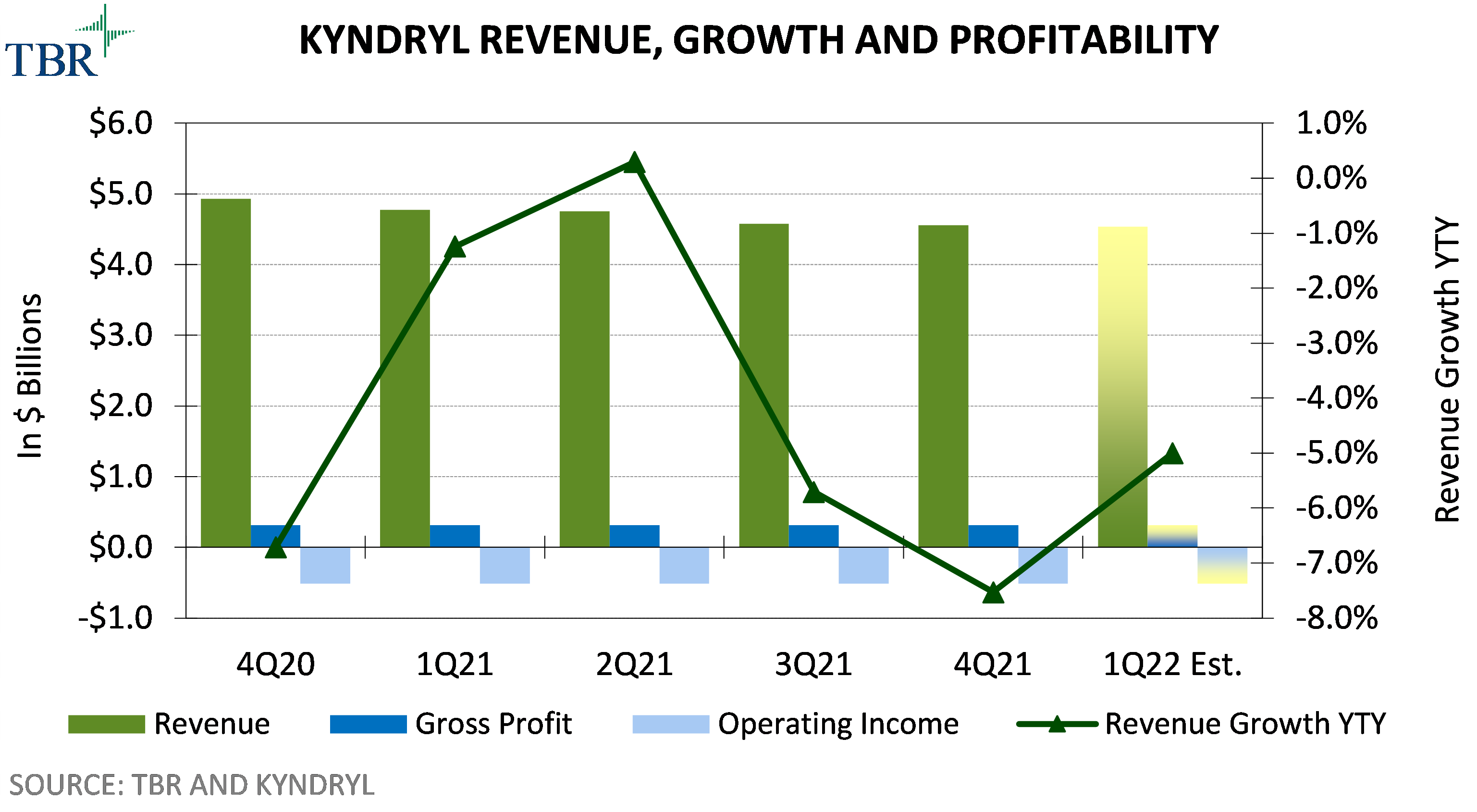 The revenue growth pressures reflect the negative effects from Kyndryl's operation as a captive business to IBM prior to the spinoff, including its inability to adjust its portfolio to dynamic market trends and its limited opportunities within the partner ecosystem. Prior to the spinoff, revenue in GTS' Infrastructure & Cloud Services segment, which moved to Kyndryl, declined for 11 consecutive quarters beginning in 3Q18 before returning to revenue growth of 0.5% year-to-year in 2Q21. While IBM was ramping up activities around modernizing infrastructures through hybrid cloud and managing mission-critical workloads, lower business volumes and commoditization were driving growth pressures in classic infrastructure services areas, a trend that continued somewhat for Kyndryl in 4Q21.
Kyndryl's adjusted EBITDA margin and operating margin were negatively affected by transaction costs of $129 million in 4Q21 related to the spinoff, such as advisory banking and legal fees and employee retention expenses. The company also took a goodwill impairment charge of $469 million in 4Q21, associated with its business in EMEA and the U.S., which negatively affected operating margin in 4Q21 and for the full year. Kyndryl expects to have a considerable amount of separation work, which will lead to higher expenditures during 2022, such as costs related to migration of systems, rebranding and execution on an employee retention plan that IBM initiated prior to the spinoff.
TBR expects it will take approximately two years for Kyndryl to return to revenue growth and improve profitability, exposing the company to competitive pressures
Kyndryl is taking actions to transform its business and strengthen its revenue and margin profile in the next three years. Augmenting advisory and implementation services capabilities will positively affect revenue growth as such projects have a shorter duration, convert faster to revenue compared to long-term and large-scale outsourcing engagements, and are also margin accretive. On the profitability side, the company will be lowering its asset intensity ratio and following an expense management initiative. However, Kyndryl expects financial results for fiscal year 2023 (ending in March 2024) to resemble results for the full-year pro forma 2021, with declining revenues year-to-year in constant currency, adjusted EBITDA margins in the midteens and breakeven-adjusted pretax income.
Kyndryl has the opportunity to improve signings performance as a result of its expanding partner ecosystem and expects to generate double-digit signings growth during fiscal year 2023. While such activities will enable Kyndryl to return to revenue growth in 2025, during the next two years the company will be exposed to competitive pressures and dynamic market trends. Generally, companies that provide infrastructure services, including Kyndryl, are not able to shift direction quickly. Kyndryl usually starts its year with approximately 85% of projected revenue already under contract due to its multiyear engagements. Long sales cycles and long ramp-up times in managed services elongate signings conversion into revenue and profitability, most likely leaving Kyndryl with financial performance below peer averages in the next two years.
Kyndryl's three initiatives in the areas of alliances, advanced delivery and accounts will enable the company to drive revenue and signings growth and improve profitability in the near term. Increased activities with new alliance partners enable the company to operate across a wide range of technologies, increase wallet share with customers, attract new customers and drive revenue growth. Kyndryl is targeting approximately $1 billion in signings by fiscal 2023 from partnerships with hyperscalers such as AWS, Google Cloud and Microsoft, which will lead to incremental revenue streams, a new profit source for the company.
Kyndryl expects to generate approximately $200 million in annualized margin-accretive revenue by fiscal year 2023 from engagements with hyperscalers and continue to increase hyperscaler certifications, which collectively stood at 16,000 at the end of 2021. Advanced delivery is tied to establishing skills to address demand, such as upskilling people, developing certifications and positioning close to customers. Expanding automation in service delivery will enable the company to redeploy people to work on higher-value and higher-margin activities, such as freeing up experienced technologists and delivery experts to work on new opportunities with hyperscalers; enhance the quality of its service delivery; and reduce costs, such as eliminating approximately $200 million in annualized costs by fiscal year 2023.
On the accounts side, Kyndryl aims to address challenges in low-margin business areas, which will drive approximately $800 million in pretax income opportunity. The company will emphasize turning around margin-dilutive engagements, such as by expanding relationships around new revenue streams with new alliances and increasing activities around the six global practice offerings and the advisory and implementation services business. Kyndryl plans to deliver a $75 million benefit through March 2023 and begin fiscal 2024 with $200 million in annualized run-rate benefits. Strictly executing on strategic priorities will be key to the company's success in the next two years.
Kyndryl is sixth in total IT services revenue and first in managed infrastructure services revenue
Compared to IT services peers, Kyndryl, which reported $18.7 billion in revenue in 2021, ranked No. 6 in revenue size among the 31 vendors covered in TBR's 4Q21 IT Services Vendor Benchmark report. Kyndryl is slightly larger in revenue size than Cognizant, which generated $18.5 billion in revenue in 2021, but is smaller than Fujitsu, which garnered $21.3 billion in revenue, and Capgemini, which reported $21.5 billion in revenue. With a TBR-estimated $15.1 billion in revenue in managed infrastructure services in 2021, which includes IT outsourcing and managed cloud services, Kyndryl is the revenue leader in the segment among the 31 vendors in TBR's IT Services Vendor Benchmark. The closest competitors in the segment are DXC Technology with $8.2 billion in revenue in 2021, NTT DATA with $6.4 billion and Atos with $6.1 billion.
TBR's coverage of Kyndryl will evolve into a more comprehensive analysis
Kyndryl will be part of TBR's Professional Services and Cloud Services research areas and will be included in TBR's IT Services Vendor Benchmark and Cloud Professional Services Benchmark. TBR will include Kyndryl data and analysis in TBR Insight Center™, an interactive platform that provides robust and dynamic visualizations of TBR's benchmark and customer study data, saving customers time and speeding business decision making. After two quarters of earnings, TBR will evolve the Kyndryl profile into a more comprehensive report, with details to be determined based on our analysis of the vendor.
https://tbri.com/wp-content/uploads/2022/05/landscape-3127859_640.jpg
359
640
Elitsa Bakalova, Senior Analyst
https://tbri.com/wp-content/uploads/2021/09/TBR-Insight-Center-Logo.png
Elitsa Bakalova, Senior Analyst
2022-05-10 15:59:13
2023-01-31 19:17:54
Kyndryl has the freedom to choose its own destiny