Informatica IDMC Innovations Help Customers Harness Their Data in a Cloud-first World
In two years, Informatica Data Management Cloud (IDMC) has grown from a platform with only a select number of products to a complete, comprehensive portfolio spanning Integration, Data Catalog, Data Quality, Master Data Management (MDM), 360 Applications, Governance & Privacy, and Marketplace. Rapidly closing in on the $1 billion mark in cloud annual recurring revenue (ARR), Informatica has undergone a major transformation with IDMC and continues to expand the platform to an emerging set of use cases beyond traditional integration and data warehouse modernization. Informatica has over 5,000 customers in more than 100 countries and roughly 6,000 employees worldwide.
TBR Perspective
Like other enterprise software companies born on premises, Informatica has embarked on a transformative journey to the cloud over the past few years. Leveraging the IaaS and PaaS assets of its strategic partners, Informatica has transitioned its business model from selling disparate, legacy products to a unified cloud platform — IDMC — that can support a broader set of use cases and ultimately speak to a maturing audience of customers who are moving away from bespoke integrations.

With the company now on track to exceed $600 million in cloud ARR by the end of 2023, it is fair to say that Informatica's cloud-based platform approach is resonating in the market. However, the company faces the task of moving legacy PowerCenter customers to IDMC.

Although PowerCenter currently has thousands of customers, the number that will migrate to IDMC will ultimately be determined by Informatica's ability to convince them that the quality of IDMC matches what they received on premises with PowerCenter.

To fast-track these migrations and unlock additional cross-selling opportunities once customers are in the cloud, Informatica has been investing millions of dollars in R&D to build out IDMC with enhanced capabilities and greater functionality, such as elastic serverless, additional prebuilt data classifications and auto generation, across the cloud product's seven core modules.

While the current macroeconomic environment is stalling some customers' cloud projects, Informatica will benefit long-term as customers consolidate multiple data solutions and start to look at data as their greatest business asset. These secular tailwinds, combined with a methodical product focus and partner execution, will help Informatica upgrade its customers to the cloud and better position IDMC as unique in the evolving data landscape.
Informatica Is Helping Customers Modernize PowerCenter at Their Own Pace
Through its Modernization Program, Informatica continues to offer customers a series of self-service products, partner services and support models, and financial incentives to fast-track customers' adoption of IDMC in the cloud. In one of its latest updates, Informatica announced Cloud Data Integration for PowerCenter (CDI-PC), which essentially allows customers to use their PowerCenter assets in the cloud without migrating any actual metadata.

While Informatica would like to get its legacy customers on IDMC in the cloud, the company, despite no longer selling new licenses, will not end-of-life PowerCenter. Committing to these on-premises customers and not enforcing any sort of migration deadline is notable, and the new CDI-PC offering, available in 2H23, is designed to help customers modernize PowerCenter at their own pace — something that will be highly valued by customers.

Informatica Expands the Scope of IDMC with New Capabilities, Integrations and Industry Data Models
Given its Early Lead in AI for Data Management, Informatica Is Well Positioned to Address the Budding GenAI Opportunity
While currently the foundation of IDMC, CLAIRE has been key to Informatica's strategy for years, initially supporting the company's traditional product portfolio with more routine data management tasks like data discovery. Today, the AI engine has scaled to 23 petabytes of metadata and 54 trillion transactions per month, making it well suited to more emerging cloud-ready use cases such as data set recommendations and entity matching, while placing it squarely in front of the next big wave of IT automation: generative AI (GenAI).

Upon its general availability in mid-2023, analysts will be able to ask CLAIRE GPT questions directly through IDMC to automate not only unique data management tasks but also entire data workflows. For example, during the live demo of CLAIRE GPT in the opening keynote session, we were given the scenario of two banks needing to integrate their data sets, housed in different systems, such as Salesforce and SAP, for cross-sell analysis. In this scenario, a user can ask CLAIRE GPT to create a data pipeline that brings data from Salesforce and SAP into Customer 360.

In this scenario, it is clear how CLAIRE GPT can save data teams time, as instead of creating the data pipeline manually themselves, they can go directly to Customer 360 to analyze the newly consolidated data. Currently, we see data pipeline generation as the most critical use case, although it would not be surprising to see CLAIRE GPT extended to more intricate use cases such as data cataloging in the coming years. With the advent of generative AI, it is also easy to speculate about some of the longer-term opportunities.

For example, Informatica could put its own governance capabilities around large language models (LLMs) to help customers understand where the models are being used, their direct purpose and perhaps where model data is being used in training versus production. However, we contend these governance initiatives would require a large reliance on the Big Four advisory partners to complement Informatica's technology-level expertise with the business governance capabilities required before these LLMs can, or should, be established.

Nonetheless, it is very early days for generative AI, and Informatica, along with the rest of the industry, is still waiting for the enterprise use cases for the LLMs frequently referenced by Amazon Web Services (AWS) (Nasdaq: AMZN), Microsoft (Nasdaq: MSFT) and Google Cloud (Nasdaq: GOOGL) to be more clearly established.

Once the market has a better grasp of the practicality of these models, the long-term opportunities for a company like Informatica around generative AI will become clearer. What we know now is that GPT technology can unlock new efficiencies for data teams, and Informatica's early lead in AI for data management and vast ownership of intelligent metadata are reasons to be optimistic about the company's use of generative AI as a vehicle for IDMC adoption.
As New Sustainability Regulations Take Hold, Informatica Helps Customers Make Sense of Their ESG Data
In its latest industry cloud push, Informatica announced IDMC for ESG, which offers fit-for-use data models to help customers make sense of their environmental, social and governance (ESG) data and comply with regulations. This includes the ESG reporting proposal from the Securities and Exchange Commission (SEC), which could take effect in early 2024, requiring publicly traded companies to disclose certain metrics such as climate targets and greenhouse gas emissions.

As the regulatory environment changes, particularly across G7 countries, businesses will be faced with the additional burden of meeting government standards, presenting inroads for Informatica to help customers collect, discover, tag, profile and catalog ESG data. IDMC for ESG follows other industry customizations for the platform, including retail, financial services, and healthcare & life sciences, and we expect Informatica will continue to expand in other industries and subverticals with additional data models, custom user interfaces and data quality rules to appeal to highly regulated customers.
In a Three-pronged Approach, Informatica Aligns with Hyperscalers and GSIs to Help Customers Modernize Data in the Cloud
The data cloud opportunity is best viewed through an ecosystem lens, recognizing that hyperscalers, pure play platforms and global systems integrators (GSIs) all play an equally critical role in supporting customers' data strategies.

When a company like Informatica comes into a customer engagement, there is already a pre-existing hyperscaler-customer relationship, where the customer has identified portfolio gaps and opportunities to improve data management processes in the cloud. Leveraging this existing relationship, Informatica goes to market with GSI partners that understand the architectures of both Informatica and the hyperscaler to help navigate the relationship and address integration and implementation challenges.

In this model, it is clear to see how all parties benefit: the hyperscalers welcome Informatica customers who deploy solutions that maximize their underlying IaaS resources, while Informatica taps into the hyperscalers' vast base of customers who have moved to the cloud and are looking for ways to turn data into a monetizable asset.

The GSIs are starting to build out their Informatica practices, and Informatica reports over 15,000 certified professionals across Accenture (NYSE: ACN), Deloitte, Capgemini, Cognizant (Nasdaq: CTSH), Wipro (NYSE: WIT), Tata Consultancy Services (TCS) and KPMG. These partners will play an increasingly important role in not only driving IDMC implementations but also supporting advisory-level use cases, such as change management, and helping customers adopt data-first strategies.

Two partnership dynamics for platform vendors to consider:
Partnerships in the data cloud space are multifaceted: With different vendors specializing in a particular area of the data stack, multifaceted partnerships are common and a vendor like Informatica can benefit from two of its own partners working together. Perhaps the best example is the AWS-Snowflake (NYSE: SNOW) relationship. Despite offering competing data warehouse solutions, both companies work together to offer Snowflake's Data Cloud, which delivers a cloud-native data warehouse, on AWS infrastructure. We suspect the Snowflake-AWS relationship will be a growth driver for Informatica, as Snowflake brings new use cases that are highly reliant on data management, such as analytics, to AWS infrastructure.
Coopetition is real, and pure play platform vendors need to understand where they overlap with their partners: Coopetition, where competition and cooperation overlap, is inevitable in the cloud industry and is easy for vendors to dismiss. However, AWS, Microsoft and Google Cloud — all of which are relied on by the platform companies to go to market — are using their unmatched infrastructure scale to build up the stack. For context, one customer TBR spoke to said: "At some point, and I don't know when that point is, but PaaS solutions will become more commoditized in what Microsoft or what AWS has to offer, but it's not there yet for large companies. It might be there for a small company. And I wouldn't have said that three years ago. But if you're a small company who's not heavily regulated like we are, you probably could go pretty native and be quite efficient." It is true that hyperscalers lack the feature–rich capabilities of a company like Informatica, but we expect these vendors will continue to use their IaaS footprint and expertise in areas like data storage, querying and analytics to move further into areas like data cataloging, profiling and governance.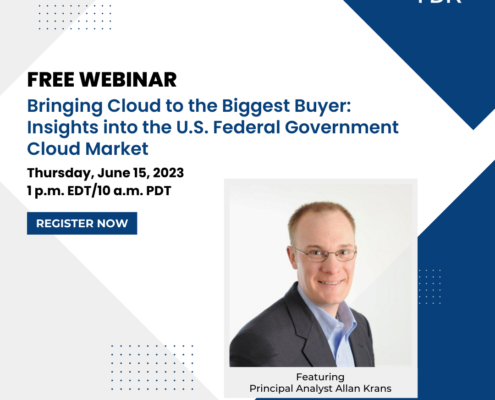 Technology Business Research, Inc.
Free webinar: Learn which trends in M&A, resource management and consulting will shape the U.S. federal cloud government market in 2023 and 2024; how AWS, Microsoft and Google are winning opportunities with U.S. federal government agencies; and how the largest federally focused IT services vendors are positioning as cloud professional services providers
https://tbri.com/wp-content/uploads/2023/05/TBR_WEBINAR_FedCloudMarketEcosystem_2Q23_Tile.png
1080
1080
TBR
https://tbri.com/wp-content/uploads/2021/09/TBR-Insight-Center-Logo.png
TBR
2023-05-26 15:09:21
2023-05-26 15:09:21
Bringing Cloud to the Biggest Buyer: Insights into the U.S. Federal Government Cloud Market
As its Partner Strategy Goes From Breadth to Depth, Informatica Builds Tighter Integrations with Hyperscalers to Improve User Experiences
For a neutral platform company like Informatica, the ability to support the broadest set of platforms, tools and providers is a prerequisite. Compatible with data warehouses from the likes of AWS, Snowflake and Google Cloud up to the systems of record like SAP (NYSE: SAP) and Workday (Nasdaq: WDAY), Informatica has proved its ability to effectively partner across the data landscape.

Now, the company's big focus becomes building better user experiences with partners by offering tightly integrated services natively through hyperscalers. One key example is Informatica making IDMC available as a native ISV service on Microsoft Azure. With this announcement, customers can access all of IDMC directly through the Azure console, using Azure Active Directory with single sign-on (SSO), thus eliminating the need for multiple credentials.

As one of only a handful of ISVs natively integrated with Azure, this announcement is a big milestone in the Informatica-Microsoft partnership, which remains unique as Informatica integrates not only with most aspects of Azure but also with the Dynamics 365 data model. We suspect the new integration will help Informatica further tap into the Microsoft base of customers who are going all in on Azure.

In addition to Microsoft, Informatica announced new integrations with Google Cloud, including MDM SaaS on Google Cloud as well as the launch of IDMC in Google Cloud's Europe-based cloud regions to support customers required to keep data within European Union borders.

While it may be more difficult for Informatica to work with AWS due to how closely AWS integrates its services, which creates a degree of lock-in for customers, Informatica remains focused on offering customers seamless, native experiences as it does with other hyperscalers. At Informatica World 2023, Informatica launched Cloud Data Integration (CDI) Free for Amazon Redshift, providing customers with another integrated tool that can process up to 20 million rows for ETL (extract, transform, load) or 10 processing hours per month.

At first glance, one might assume AWS' famed zero-ETL integration between Aurora and Redshift announced at re:Invent last year will box out third-party tools like CDI. However, we see "zero-ETL" as more of a marketing term, and the announcement essentially boils down to glorified data sharing, applicable within the AWS ecosystem. Therefore, there is still a clear path for Informatica to use tools like CDI to get data from outside AWS into Redshift, and once data is there, Informatica can offer additional data management capabilities.
Conclusion
Leveraging partners and organically developing new horizontal and vertical capabilities are helping Informatica position IDMC as the leading end-to-end cloud platform for data management. IDMC and the more comprehensive modules it supports are not only helping Informatica focus on technical use cases but also helping customers realize business outcomes, from meeting service-level agreements (SLAs) to better managing downtime.

This business value was highlighted in numerous customer examples during Informatica World 2023, from Burton, which needed to better understand customer data upon shifting its business model from B2B to B2C, to KPMG, which is leveraging Informatica to deliver software-led offerings to clients as managed services. Informatica will continue to organically invest to keep IDMC relevant in an evolving landscape, addressing demand from customers favoring comprehensive platforms over best-of-breed solutions while warding off infringement from AWS, Microsoft and Google Cloud.
https://tbri.com/wp-content/uploads/2021/11/cloud-6515064_640.jpg
298
640
Catie Merrill, Senior Analyst
https://tbri.com/wp-content/uploads/2021/09/TBR-Insight-Center-Logo.png
Catie Merrill, Senior Analyst
2023-05-30 13:52:40
2023-06-14 16:51:34
Informatica IDMC Innovations Help Customers Harness Their Data in a Cloud-first World