NFV/SDN prepares operators to support 5G era use cases and helps drive network efficiencies
According to TBR's 3Q18 NFV/SDN Telecom Market Landscape, operators will further adoption of virtualized network solutions by capitalizing on 5G use cases and strengthening security capabilities. Integrating NFV and SDN technologies will enable operators to more effectively support network technologies that will become prevalent in the 5G era, including network slicing and edge computing, which will play a pivotal role in supporting 5G use cases such as advanced Internet of Things (IoT).
Operators are under pressure to invest in NFV and SDN to reduce total capex and opex spend as well as introduce new services and stay competitive as they prepare to offer 5G services and search for new network use cases. The shift to software-defined network architectures is extremely disruptive to the vendor community.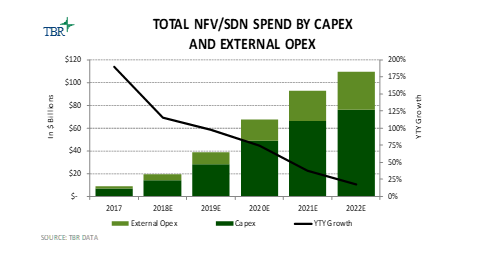 Incumbent network vendors are under increasing pressure to move up the network value chain, from hardware to software and software-related services. They are increasingly disrupted by the adoption of white-box hardware and the utilization of ODMs as operators search for avenues to reduce network costs. Deploying white boxes provides significant cost savings for operators as well as greater flexibility by allowing carriers to deploy the most appropriate virtual network functions for their environments without being limited by the constraints of propriety hardware. Though the ODM threat has not manifested in the telecom operator customer segment to the extent it has in the webscale segment, incumbent vendors must remain on alert and attempt to mitigate this threat.
The NFV/SDN Telecom Market Landscape includes key findings, market size, customer adoption, operator positioning and strategies, geographic adoption, vendor positioning and strategies, and acquisition and alliance strategies and opportunities.
For additional information about this research or to arrange a one-on-one analyst briefing, please contact Dan Demers at +1 603.929.1166 or [email protected].
https://tbri.com/wp-content/uploads/2018/07/software-mediated-pr-1h18-scaled.jpg
1706
2560
admin
https://tbri.com/wp-content/uploads/2021/09/TBR-Insight-Center-Logo.png
admin
2018-09-25 12:04:27
2022-10-06 14:33:08
NFV/SDN prepares operators to support 5G era use cases and helps drive network efficiencies