TBR Launches U.S. Federal Cloud Ecosystem Report
HAMPTON, N.H. (July 17, 2023) — Technology Business Research, Inc. is pleased to announce the launch of the U.S. Federal Cloud Ecosystem Report. This report is the second in a series of groundbreaking new research into the strategic alliances between IT/professional services firms and their key technology partners, through which vast amounts of enterprise and government IT spend occurs.
Ecosystem Reports detail the strength, headcount, revenue and technical accreditation of the staffs of leading systems integrators and their cloud, front office, back office and other partners.
The U.S. Federal Cloud Ecosystem Report captures the intersection of cloud hyperscalers and their federal government-focused systems integration partners, as well as their joint efforts in serving U.S. federal government agencies' migrations to and use of cloud. The report provides multiple perspectives and analysis of successful alliances and anticipated near-term challenges.
Currently, the report includes information and analysis on the U.S. federal government-focused practices of Amazon Web Services (AWS), Google Cloud, Microsoft and Oracle and U.S. federal government-focused IT services vendors Booz Allen Hamilton, General Dynamics Technologies, Leidos, ManTech and SAIC (selected based on their cloud-related activities and relative success in winning cloud-related contracts). Additional vendors may appear in future publications.
The first publication of this annual report is now available for download. Start your free trial today to gain access!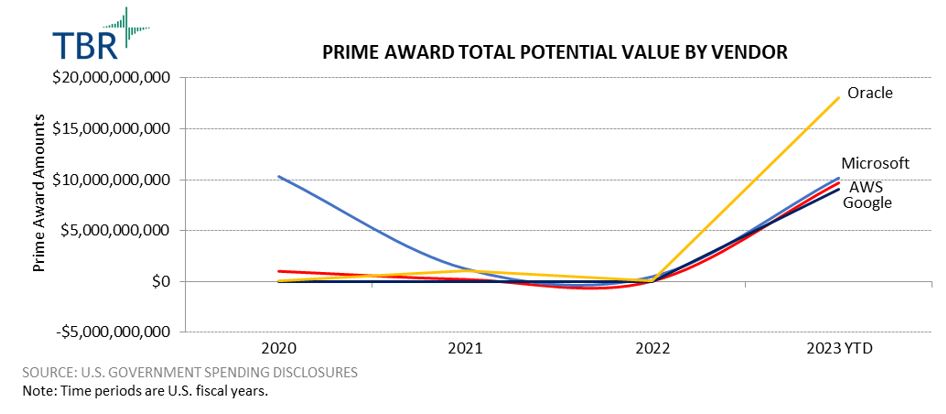 Highlights from the 1H23 U.S. Federal Cloud Ecosystem Report
The recently awarded Joint Warfighting Cloud Capability (JWCC) contract fundamentally changes the possibilities for hyperscalers around capturing prime contracts. Microsoft, AWS, Google and Oracle now have up to $10 billion in contracts to compete for over the next three-plus years, with the exact length depending on one-year extension options.

AWS is the first vendor to offer a solution as part of the contract, and just two months after receiving the award, the company announced Modular Data Center (MDC), a portable data center that houses compute, storage and networking hardware and can be deployed at tactical edge locations, such as naval ships or war zones. MDC is supported through AWS' GovCloud regions but allows eligible customers to use the solution with limited network connection, as MDC supports Outposts racks and the Snowball portfolio, allowing customers to locally process and transfer data between their site and AWS.

In June Principal Analyst Allan Krans, Senior Analyst John Caucis and Principal Analyst Patrick M. Heffernan discussed cloud within the U.S. federal government, including previewing exclusive insights from the U.S. Federal Cloud Ecosystem Report. The team discussed how AWS, Microsoft and Google are winning opportunities with U.S. federal government agencies; which trends in M&A, resource management and consulting will shape the market in 2023 and 2024; and more. Click the video below to watch the free replay of this discussion on TBR's YouTube channel.


https://tbri.com/wp-content/uploads/2023/07/US-Federal-Cloud-Ecosystem-Report_New-Product-Alert.png
1200
1200
TBR
https://tbri.com/wp-content/uploads/2021/09/TBR-Insight-Center-Logo.png
TBR
2023-07-17 09:05:06
2023-07-14 19:20:33
TBR Launches U.S. Federal Cloud Ecosystem Report