As the pandemic continues to push customers to hybrid IT, vendors aim to meet demand with flexible, cloud-like pricing models
Average revenue growth for vendors in TBR's Cloud Components Benchmark increased 12.6% year-to-year in 3Q21, partly due to a favorable year-ago compare considering the economic impacts of COVID-19 in mid-2020. Further, with many vendors operating transactional-heavy business models, rebounding demand for license products supported revenue growth during the quarter, especially for software-centric vendors like Microsoft and VMware. COVID-19 is causing customers to reevaluate their digital transformation plans; this may include migrating completely to a cloud environment, which will erode opportunities for some vendors while others will expand their existing data center investments through solutions like hyperconverged infrastructure (HCI).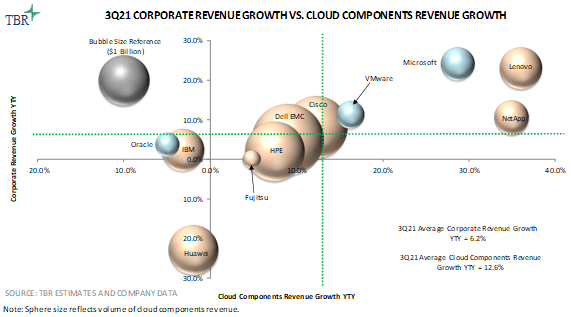 Given some customers' reluctance to move outside the data center, opportunities arise for vendors to push 'as a Service' offerings
According to TBR's 2H21 Cloud Infrastructure & Platforms Customer Research, 42% of respondents plan to keep most of their workloads inside the data center over the next three years. As COVID-19 accelerates customers' cloud migration timelines, many enterprises turn to self-built private cloud environments as an intermediary step to a fully managed vendor-hosted private or public cloud model.
Further, many larger, established enterprises are looking to protect their existing investments in IT and find that their own data centers are a better fit for certain workloads, particularly those with stringent security or latency requirements. These customer trends present opportunities for hardware-centric vendors such as Hewlett Packard Enterprise and Dell EMC to capitalize on demand for cloud-like consumption services on premises in the coming years.
Data center consolidation persists
Many self-built private cloud customers adopt HCI solutions to modernize their legacy systems and consolidate their overall data center footprint, a trend brought on by cloud migrations and exacerbated by the pandemic. Colocation is emerging as a notable alternative to privately owned data centers in this model, as customers are offered a secure landing spot for their hardware while providing high proximity to major public cloud platforms. Recognizing this trend, OEMs are partnering with colocation providers to offer central management and governance capabilities that facilitate customers' workloads.
Vendor competition ramps up amid high demand for cloud-like economics on premises
The cloud components market is consolidating around select vendors, such as Microsoft and VMware, specifically in the virtualization space. However, on the hardware side, vendors are emphasizing their consumption-based pricing offerings, seeking differentiation by taking a workload-by-workload approach. While in general IBM has been lacking in consumption-based hardware, the company is expanding its investments in the area, evidenced by the release of the company's Tailor Fit Pricing solution for hardware consumption, which applies a pay-as-you-go model to a highly scalable, premium solution like IBM Z.
Gain access to the entire 3Q21 Cloud Components Benchmark, as well as our entire Cloud & Software research, with a 60-day free trial of TBR Insight Center™.
Register for our upcoming webinar, 2022 Predictions: Cloud, an in-depth discussion on the increasing importance of cloud partnerships in the market; how partners will enable growth and stickiness; vendor embrace of open, hybrid architectures; and more.
https://tbri.com/wp-content/uploads/2022/02/image-3.png
317
571
Jacob Fong, Analyst
https://tbri.com/wp-content/uploads/2021/09/TBR-Insight-Center-Logo.png
Jacob Fong, Analyst
2022-02-23 17:25:59
2023-03-22 17:42:17
As the pandemic continues to push customers to hybrid IT, vendors aim to meet demand with flexible, cloud-like pricing models