With TBR's Cloud & Software market and competitive intelligence research, gain a true understanding of how technology and business strategies are being used by leading vendors to address the growing desire for cloud-enabled solutions. Our unique research in this space includes financial data that goes beyond just reported data, revenue and growth benchmarks, go-to-market analysis, ecosystem and partnership teardowns, and market sizing and forecasting.

Receive in-depth financial and business model analysis of the leading vendors in the cloud, rounded out with marketwide perspectives and direct insight from end-customer primary research. This combination of perspectives allows TBR to quantify the financial returns being generated from leading vendor strategies and identify where the market is headed based on feedback from customers making cloud investment decisions.

A free trial of TBR's Insights Center platform gives you access to our entire Cloud and Software research portfolio and the ability to customize and curate reports detailing our analysis based on your company's specific needs. Fill out the form below to start your free trial today!
Trends we're watching in 2023:
Cloud customers are looking for ways to decrease IT complexity burdens.
Latency improvements are creating opportunities within proximity to the customer and at the edge.
Security remains a top priority for enterprise buyers.
The rise of hybrid, multicloud environments creates opportunities for Kubernetes-based platforms capable of reducing complexity.
Data proliferation is creating new use cases for AI, machine learning and data analytics.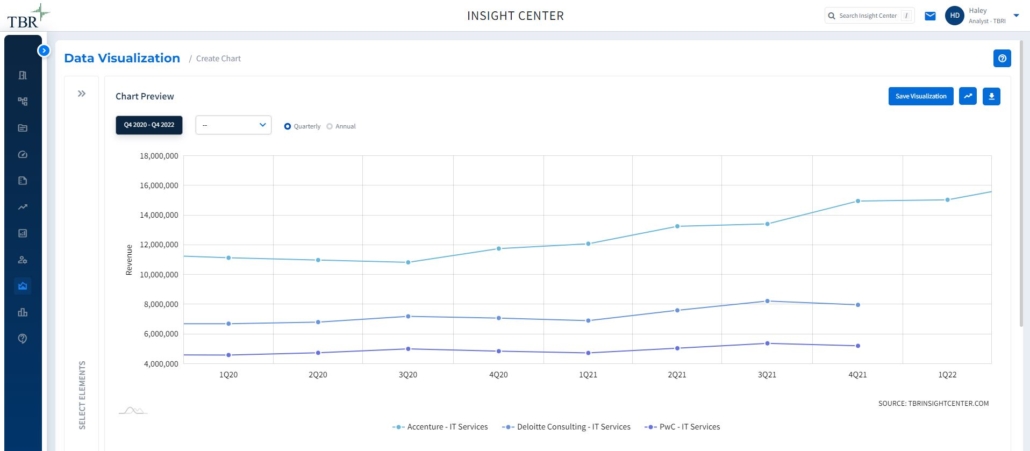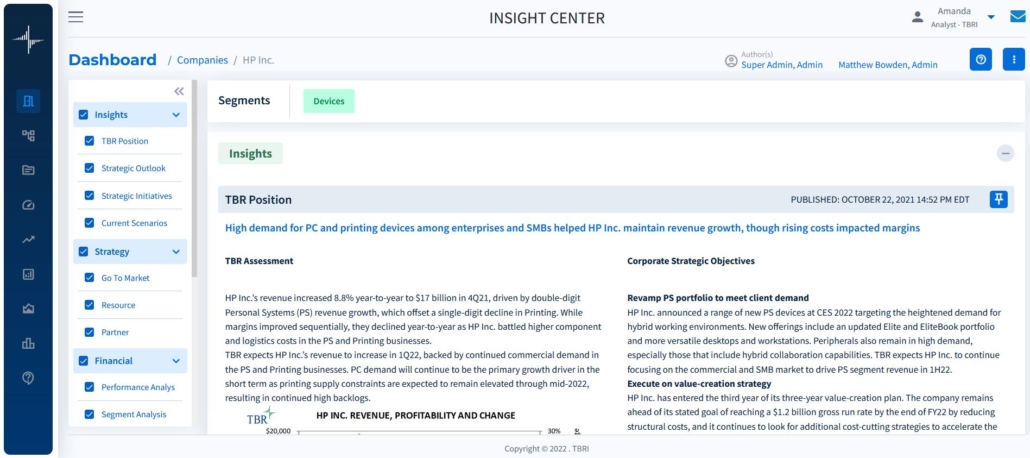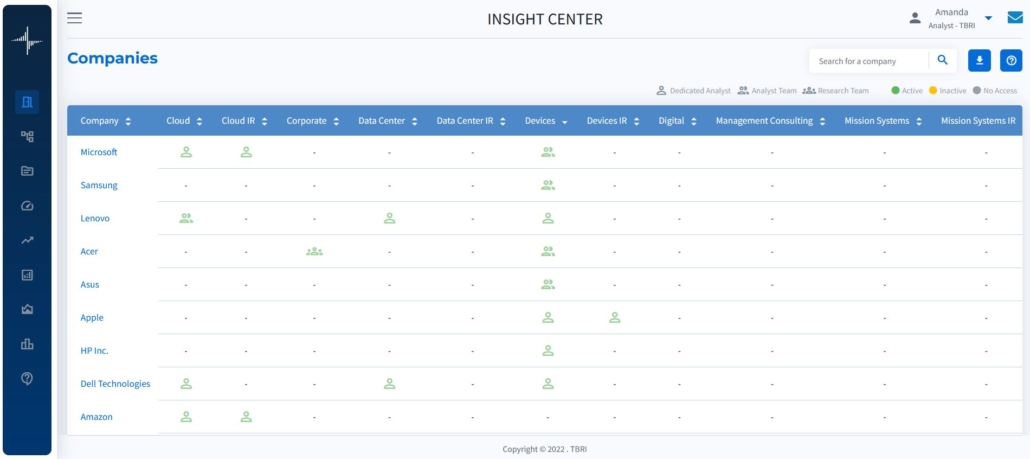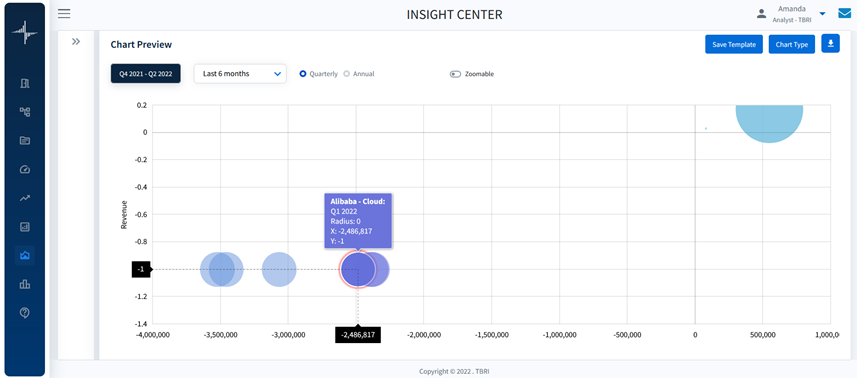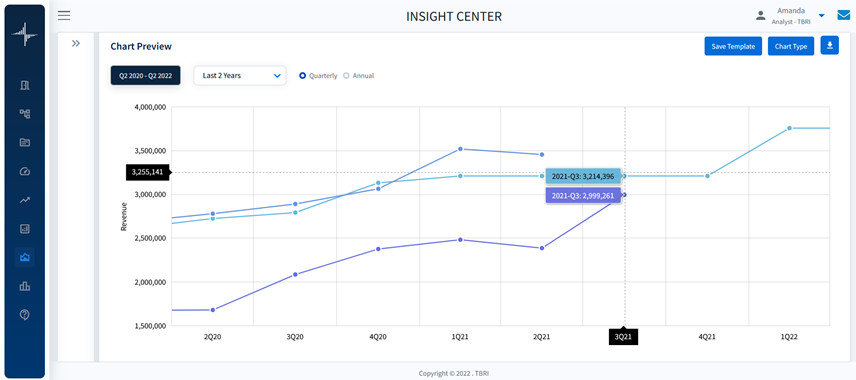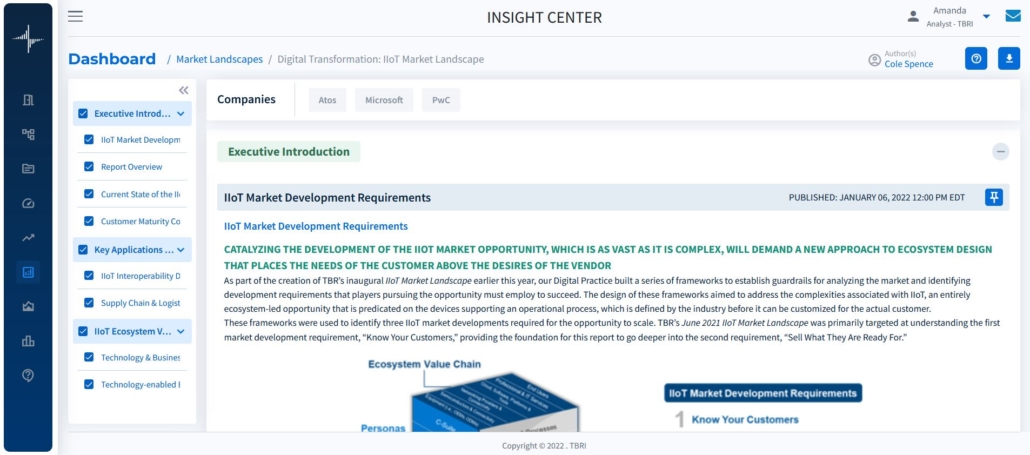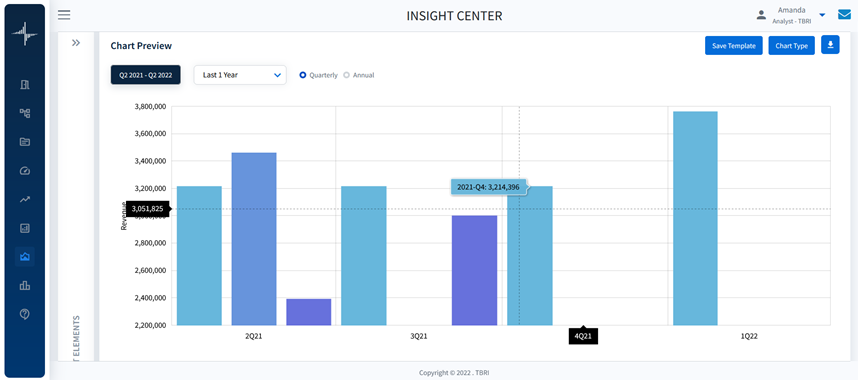 Benchmark
TBR's Cloud & Software benchmark research provides clients a comparison of vendor performance in a market, including analysis on vendor strategies, financial performance, go-to-market and resource management. The research graphically portrays comparisons of vendors by myriad metrics, calling out leaders, laggards and business models.


Cloud and Software Applications Benchmark

Cloud Components Benchmark

Cloud Infrastructure & Platforms Benchmark

Cloud Professional Services Benchmark

Colocation Benchmark

Although cloud providers have attempted to disrupt the cloud professional services industry and secure more share via emerging technologies, GSIs remain the industry leaders across segments. Partnering with these leaders has enabled cloud providers to capture opportunities in the market.
Market Forecast
TBR's Cloud & Software market forecast research provide analysis of market opportunity as well as current market sizing and five-year forecasts, including analysis on growth drivers, top trends and leading market players.


Cloud Components Market Forecast

Cloud Infrastructure & Platforms Market Forecast

Cloud Professional Services Market Forecast

Cloud Applications Customer Research

Cloud Infrastructure & Platforms Customer Research

Market landscape
Cloud & Software market landscape research includes analysis of an emerging or disruptive market segment or technology, including insight into how vendors and customers address the emerging technology as well as market sizing, vendor positioning, strategies, acquisitions, alliances and customer adoption trends.


Cloud Data Services Market Landscape

Cloud Ecosystem Report

Digital Commerce Market Landscape

Ecosystem report
Ecosystem reports compile data and analysis from multiple streams of TBR coverage to assess, quantify and model revenues, team compositions, go-to-market strategies and other qualitative insights, including accreditation and training of sell-through and sell-with partnerships, channels or alliances across global ICT markets.


Cloud Ecosystem Report

Vendor Analysis
TBR's Cloud & Software vendor reports, profiles and snapshots provide deep-dive analysis into a single vendor across corporate strategies, tactics, SWOT analysis, financials, go-to-market strategies and resource strategies.


Evidenced by the recent overhaul to its partner program, ServiceNow will more heavily rely on global systems integrators (GSIs), resellers and ISVs throughout 2023. In doing so, ServiceNow can rein in some go-to-market and headcount-related costs, giving it the freedom to invest in R&D and strengthening the Now Platform's position in the market.
Accenture Cloud
Adobe Vendor Profile
Alibaba Cloud
Amazon Web Services
Atos Cloud
Broadcom Vendor Profile
Capgemini Cloud
Cloudera Vendor Profile
Flexera Vendor Profile
Google Cloud
IBM Cloud
Infor Vendor Profile
Informatica Vendor Profile
Intuit Vendor Profile
Microsoft Cloud
Oracle Cloud
Salesforce
SAP Cloud
ServiceNow
Snowflake Vendor Profile
VMware Inc.
UKG Vendor Profile
Amid macroeconomic uncertainty, AWS looks up the stack to enable complete solutions for customers
Despite some of the macroeconomic challenges that have stalled many IT projects, AWS (Amazon Web Services) continues to invest, testing customers' use of the cloud, and ultimately prepare for a boon in adoption across SaaS, PaaS and IaaS once markets normalize. To support demand, AWS announced several offerings at re: Invent, which, in addition to the usual cadence of updates and features released in response to customer demand, included solutions less customary for the IaaS leader to offer, such as industry-specific modules and a service parallel to a true SaaS business application. When Selipsky took the helm as CEO in May 2021, we speculated how his experience at Salesforce would tie into an infrastructure-centric company like AWS. A year and a half later, it is clear that Selipsky is bringing AWS into a new chapter, one that looks beyond general-purpose infrastructure toward data and application services that will support the next wave of innovation and cutting-edge workload requirements.
SAP and SoftwareONE: Persistent value through pragmatic transformation
From high-level strategy consultancies to thin-margin VARs, vendors constantly hype their abilities to help enterprises unlock the value of digital transformation. Global director of SAP Business Development Pierre-Francis Grillet and SoftwareONE have a refreshingly modest and believable counterproposal: pragmatic, incremental IT and business transformation, with the sober recognition that a change as significant as migrating to S/4HANA and to the cloud needs to be executed in a series of manageable — and financially feasible — steps. In Grillet's opinion, "S/4 touches everything," so overcoming hurdles like resilience, security, and interoperability and connectedness should be approached with caution, expertise and realistic expectations. Pragmatic, incremental transformation may not sound as exciting as design thinking-led agile disruptive innovation, but software that doesn't work is useless, no matter how transformative it could be.