With TBR's Digital Transformation market and competitive intelligence research, gain insight into how technology and services firms are investing, going to market, partnering and more as they help enterprises transition to digital solutions.

Learn how IT and business buyers approach digital applications, platforms and services within the context of disruptive market trends and emerging opportunities. Additionally, examine and dissect IT vendors' ecosystem management as well as investments, performance and go-to-market strategies in both mature and emerging areas, including blockchain, Industrial IoT, analytics, customer experience and innovation centers, and cloud.

A free trial of TBR's Insights Center platform gives you access to our entire Digital Transformation research portfolio and the ability to customize and curate reports detailing our analysis based on your company's specific needs. Fill out the form below to start your free trial today!



Trends we're watching in 2023:
AI and automation are expected to reach an inflection point with macroeconomic headwinds in 2023, testing the durability of vendors' data models and algorithms.
The pivot from scrolling to strolling enabled by the metaverse positions vendors at crossroads in how to monetize the opportunity.
Technology agnosticism is dead; preferred partnerships are coming.
The rise of the multienterprise business network presents challenges and opportunities for vendors as digital programs become federated.
Established emerging technologies such as blockchain and industrial IoT face yet another test of time rooted in vendors' ability to develop scalable use cases.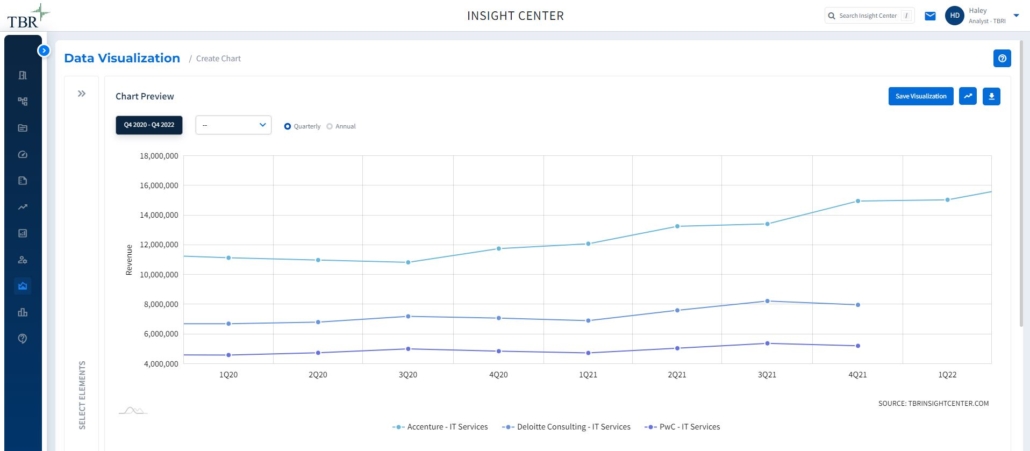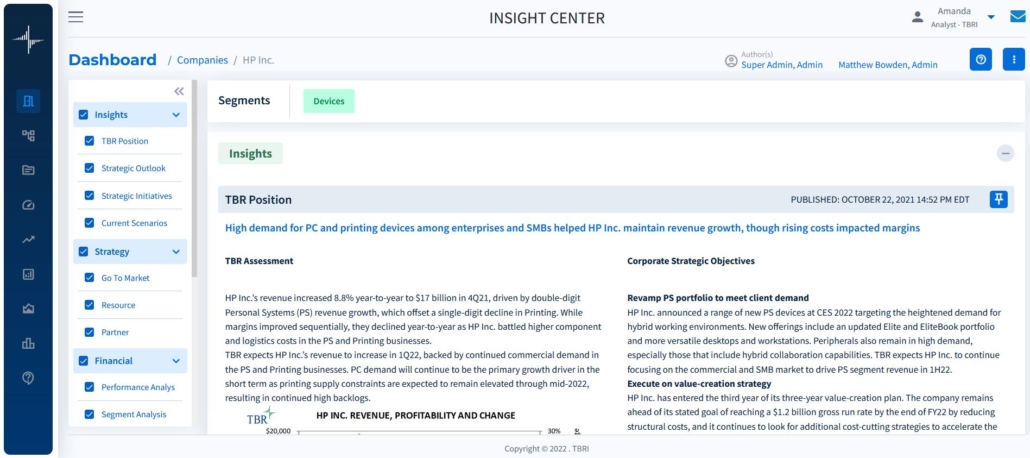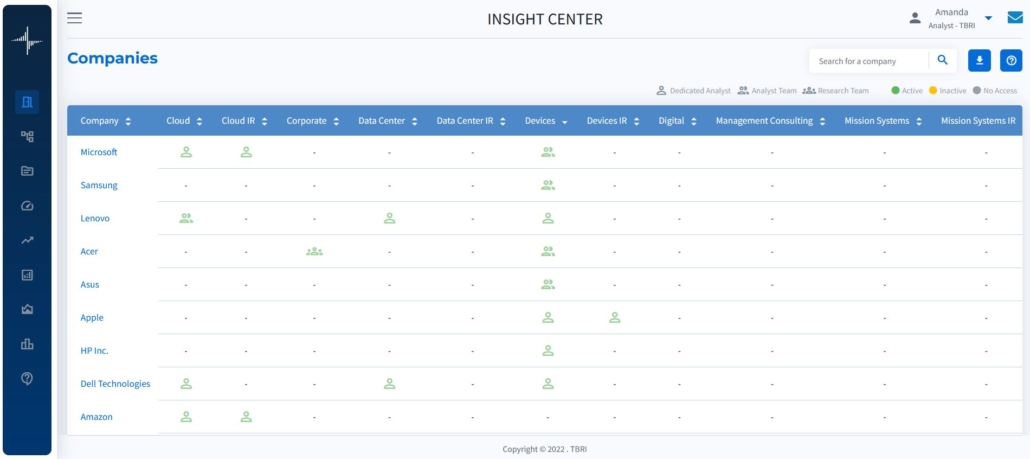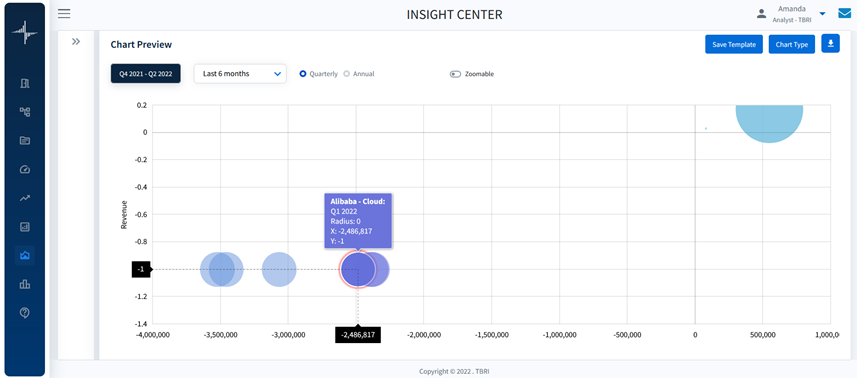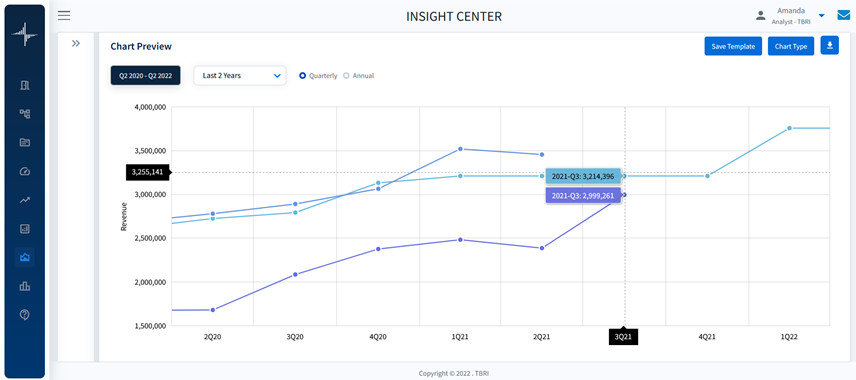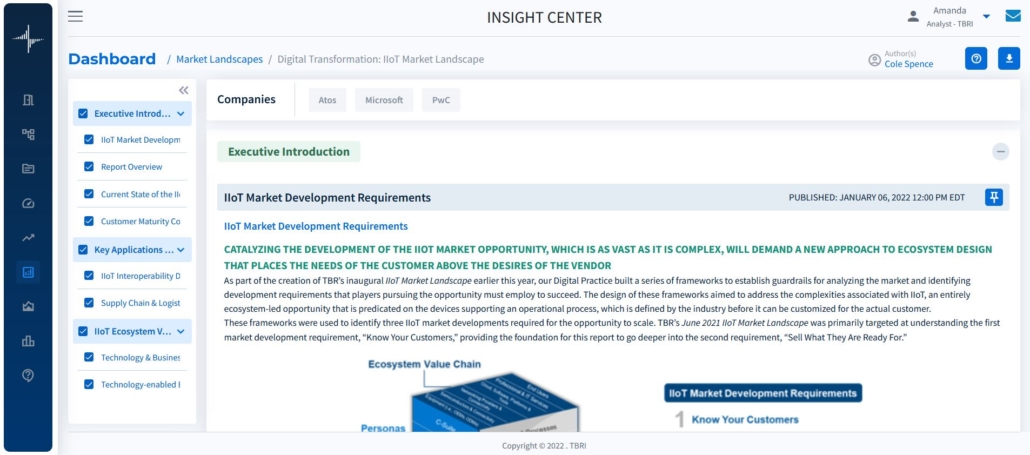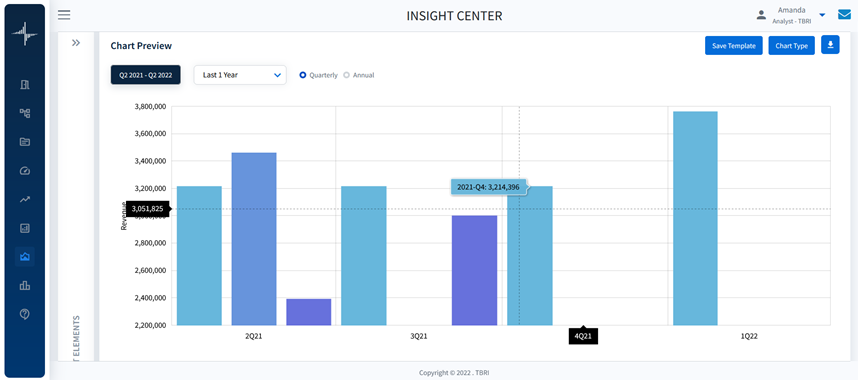 Benchmark
TBR's Digital Transformation benchmark research provides clients a comparison of vendor performance in a market, including analysis on vendor strategies, financial performance, go-to-market and resource management. The research graphically portrays comparisons of vendors by myriad metrics, calling out leaders, laggards and business models.


Digital Transformation: Analytics Professional Services Benchmark

Digital Transformation: Digital Marketing Services Benchmark

Customer Research
Digital Transformation customer research decodes and provides customers' true perceptions of vendors as well as follows the opportunity shift from legacy to emerging technologies and platforms.


Digital Transformation: Voice of the Customer Research

Ecosystem Report
Ecosystem reports compile data and analysis from multiple streams of TBR coverage to assess, quantify and model revenues, team compositions, go-to-market strategies and other qualitative insights, including accreditation and training of sell-through and sell-with partnerships, channels or alliances across global ICT markets.


Adobe & Salesforce Ecosystem Report

Cloud Ecosystem Report

U.S. Federal Cloud Ecosystem Report

Market landscape
Digital Transformation market landscape research includes analysis of an emerging or disruptive market segment or technology, including insight into how vendors and customers address the emerging technology as well as market sizing, vendor positioning, strategies, acquisitions, alliances and customer adoption trends.


Digital Commerce Market Landscape

Given the maturity of cloud adoption today, DT programs are evolving and the need for industry-based configurations has risen drastically as adopters pursue custom outcomes set against their industry backdrop. As such, the nuanced nature of industry-based requirements and compliance standards that mature enterprises must adhere to across industries such as financial services, healthcare and government, require vertically tailored offerings. As a result, technology vendor investments around industry-based cloud have accelerated in the last couple of years.
Regardless of new trends and opportunities, vendors must address legacy operations levers including people and partners in order to successfully develop and execute on the new processes needed to deliver more personalized experiences to end consumers. As the most mature digital transformation component, customer experience has compelled buyers to embark on omnichannel projects to unify insights and processes across the customer life cycle for years now, and vendors have plenty of use cases to rely on, especially as new environments such as the metaverse provide another dimension of the virtual user experience.
EY delivers data-driven transformation through business frameworks and ecosystem partners
With cloud becoming part of the IT utility bill the opportunities for monetizing enterprise data are increasing as the technology provides the bridge between everyday operations and future process optimization with the end goal of improving the customer experience. For all this to happen stakeholders must trust the data they use, which is often a challenge as data quality remains poor. During EY Global Data and AI Summit in November 2022, client stories were centered on the opportunity for organizational data to serve stakeholders — from employees to end customers — but the complexities from a technology and change management perspective continue to slow the pace of adoption.
Not your mother's CDW: Putting services at the heart of digital transformation
Of the three challenges CDW faces in growing a competitive IT services practice with scale and quality, educating its own sales force on CDW Amplified Services' capabilities may be the easiest to tackle. Salespeople across CDW currently understand at least one technology offering in depth, and the company expects sales teams will quickly adapt to bringing in additional CDW expertise to meet client demands. In TBR's view, the sales motions for products and services differ, in some ways significantly, requiring different approaches, knowledge bases and even compensation packages. But this is neither a complex problem nor a new one, and CDW's approach to building its services practice — which is methodical, bolstered by acquisitions, several of which CDW made in the last three years, and centered on technologies CDW already resells — should facilitate expanding the company's sales capabilities into services.